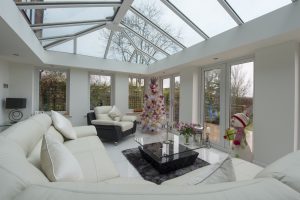 If you're finding that your family is outgrowing your home, before looking at moving, consider a home extension. We have a variety of options for your home including the popular Loggia, LivinRoom, RealRoof, Stratus Lantern Roof and our classic conservatory range. Here are the five most important reasons why you should invest in a home extension.
Add space
This is obviously the main reason that people choose to extend their home. Extending is an easy way to create the space you need. Whether it's more room for your growing family or an extra dining area for entertaining. Working from home could be made simpler with a home office away from the noise and bustle of your busy family. Or how about a relaxation zone where you can retire to once the kids are in bed? The possibilities are endless. Whether you choose a loggia or a solid roof conservatory, it will provide the space you need.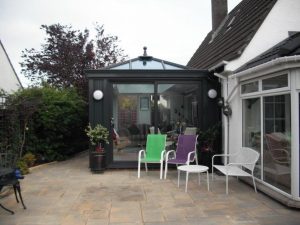 Add value
If you're planning on selling your home in the future; adding an extension will increase its value. This will also make it more desirable to potential buyers. Make sure to do your research to find out what improvements have done well in your area and what the ceiling value of your street is. As well as the value it will add to your lifestyle, it's important for an extension to be a good investment.
Cheaper than moving
Moving is known to be one of the most stressful things you can do so why go through this unnecessarily? It can also be very expensive when you add up all the fees associated with moving. Even if you find a house that ticks all the boxes, chances are you will still have to redecorate. Otherwise you will need to settle with someone else's taste. Extending your home allows you to have complete control over everything from the colour to the amount of glazing.
Modernise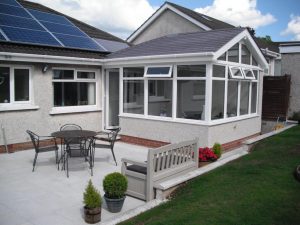 An extension can be the perfect excuse to modernise your home. You could add some beautiful bifold doors. This will open up your space as well as allowing wide ranging views of your garden or surrounding countryside. A lantern roof could be added to your extension which lets in an abundance of natural light. It's more than just simply a glazed roof, it becomes the focal point of your room and will wow any guests.
Add to your lifestyle
A more important consideration than the monetary value is what an extension can add to your family's lifestyle. More space could improve your day to day life and make things easier. It can give you more space for family time and entertaining. It will also give you enough breathing space so you're not constantly on each other's toes.
Whatever the reason for you wanting to extend your home, we have the right product for you. From a stunning loggia to a timeless conservatory, get in touch today to discuss improving your home and lifestyle for the better.