At Turkington, we pride ourselves on our extensive industry knowledge and experience. Our priority is ensuring our customers are happy and understand exactly what we can offer them. With this in mind, we've pulled together some of the most frequently asked questions we receive regarding home extensions, to help you find the right solution for you.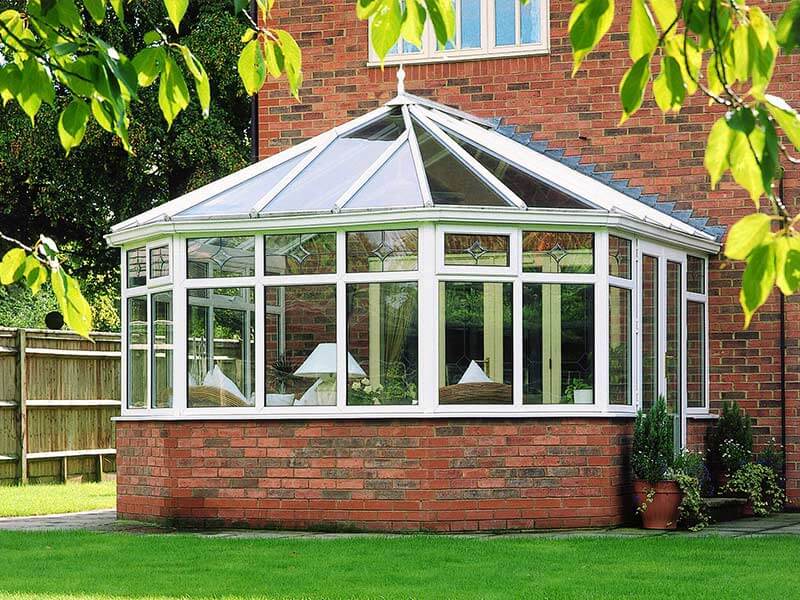 Which home extension should I add to my home?
A garden extension can make a great addition to your home, giving you extra space where you need it. However, you need to consider all your options. At Turkington, we offer bespoke conservatories, high-quality sunrooms and gorgeous garden rooms. Although each are slightly different and can provide you individual benefits, they can all make perfect additions to your home.
A conservatory
A conservatory is a classic extension that can provide you with additional light and space. Traditional conservatories consist of a fully glazed roof and around 50% glazed walls, to allow maximum natural light in. You're able to choose from a broad range of styles when designing your conservatory. Regardless of the existing style of your property, there will be a conservatory to suit. With a conservatory, you're able to completely customise the size and shape to suit your needs.
A sunroom
The difference between a sunroom and a conservatory is the roofing, sunrooms feature a solid or slate roof with an internal vaulted ceiling. A sunroom is designed to prevent light loss to any existing rooms in the home. They're often considered a more integrated extension compared to a traditional conservatory and are great for adding more space to a family home.
A garden room
Garden rooms are a more unique home extension, they're considered a standalone structure as they're usually found separated from the main property. A garden room is often fitted with a bespoke roof lantern and sleek aluminium bi-folding doors. Garden rooms are a little structurally different, the shoulder is much higher than on a sunroom or conservatory, this is to emphasise their tall and bright feeling.
What material should I choose for my extension?
By far the most popular choices for glazed extensions are uPVC and aluminium and we offer them both. When you're deciding between the two you need to consider the benefits to each of them.
uPVC
A uPVC framed extension is a more traditional choice and can be found on a large number of existing extensions. It's become so popular due to the low cost, low maintenance and range of colours. All you need to maintain uPVC is a gentle wipe over with warm soapy water twice a year, this will keep it looking great and prolong its life.
Aluminium
Aluminium is extremely strong but lightweight, it makes a great addition for glazed extensions providing beautiful views and minimal sightlines, aluminium looks particularly great on more modern extensions where a bi-fold door is featured. Again, aluminium is very low maintenance and hard-wearing.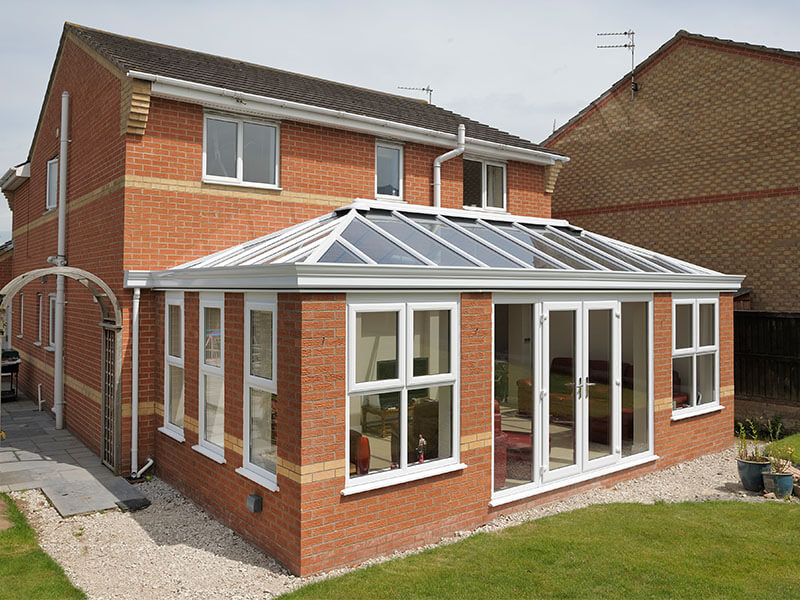 How much will an extension cost?
A conservatory is often the cheapest extension option with sunrooms and garden rooms costing around the same slightly higher amount.
Providing an exact figure for an extension without seeing a property and discussing the wants and needs of the customer is very difficult, this is because an extension is bespoke to you. The size, style, material and roofing can all create variations in the cost of your installation. At Turkington, we offer free quotes so don't hesitate to get in touch with a member of our team.
Can an extension add value to my property?
An extension can often add additional value to your property, especially when it's providing more space. An extension could increase the value of your property by 5-15%, the value is affected by location, style and size. For more detailed information about the value of adding an extension in your local area, you should get in touch with a local estate agent.
Do I need planning permission to add an extension to my home?
For a home extension, you're more likely to need to meet certain building regulations instead. At Turkington, we support you through all the building regulations and can even support with the fees involved.
Although in many cases you won't need to request planning permission there are some conditions where you may be required to apply for it.
These conditions are:
If the extension is more than 4m in height.
The extension and eaves are higher than the existing property.
The extension is closer to the road than the existing property.
It's a multi storey extension.
The building extends more than 4m from the rear wall of a detached property.
The building extends more than 3m in an attached property.
(If your property is in a conservation area it's likely that you will need to request planning permission.)
If you're looking for further guidance you can get in touch with us at Turkington and we will be able to assist you or you can check out the planning portal which is a great resource when planning an extension.
Can I get my existing extensions roof replaced?
If you already have an existing extension, you may find that your roof has started to age which can reduce its thermal efficiency. You can have your extension roof replaced but you should always have the structure of your extension assessed first to ensure it will be strong enough to hold a new roof. If your extension can, then it's definitely worth it and can save you a lot of money in the future.
When will I need to get my roof replaced?
The great thing about extension roofs is you can usually visualise the wear and tear which will indicate to you when you need to replace your roof. Tiled roofs tend to outlast glass roofs as they're so low maintenance and don't require exposed framing. But well looked after you'll find they both last a long time with the average being over 20 years.
What is a roof lantern?
Roof lanterns are most commonly found on sunrooms and make a great alternative to a fully glazed roof. They can act as a centerpiece to the room and make a great addition to your home. They have been optimised to achieve the highest level of thermal performance so you can be assured your extension will be warm in the winter and cool in the summer.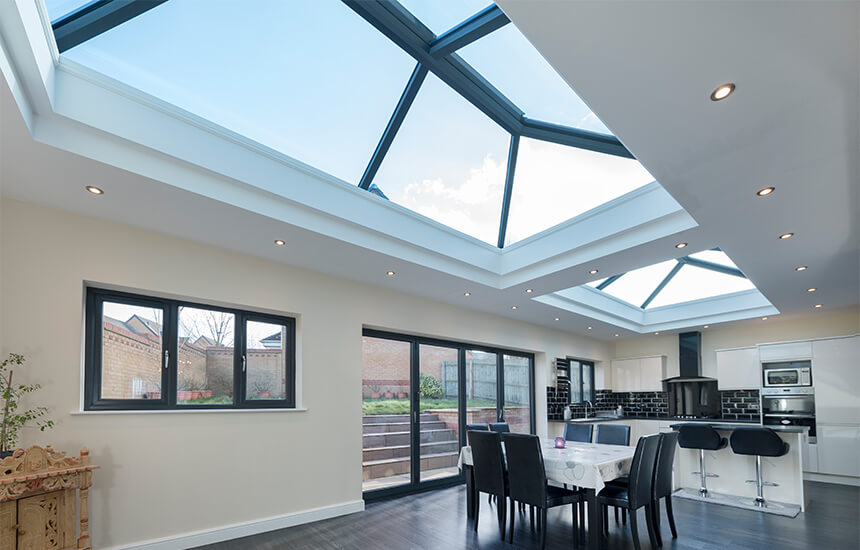 What is an UltraRoof?
An UltraRoof combines the features of a traditional tiled roof with full-length glass panels creating a unique look that will flood your conservatory with natural light. An UltraRoof is the lightest, strongest and warmest roofing option for your conservatory meaning your extension will be protected and remain usable all year round.
Will my extension be secure?
Our entire extension range has been tested to the highest security standards ensuring that your home is safe and secure, coming with 'A' rated toughened safety glass. As standard with all of our extensions, we offer a full security package to further protect your home from potential intruders.
Will my extension be energy efficient?
All of our glazed extensions provide a fantastic level of energy efficiency. We offer high performance and solar control glass. On our conservatory roofs, we use a blue tint that lets plenty of beautiful natural light in whilst providing anti-glare on particularly sunny days. The U-value of our units is particularly low, paired with our warm edge technology keeps as much heat in as possible. Our glazing units contain argon gas between the panes, making your home warmer in the winter.
Will my extension be insulated?
We add insulation under all of our conservatory floors and walls. For your additional comfort, we also install either plumbed or electric radiators and we can even install underfloor heating to make your extension feel even more homely, you can enquire about all of this with our team.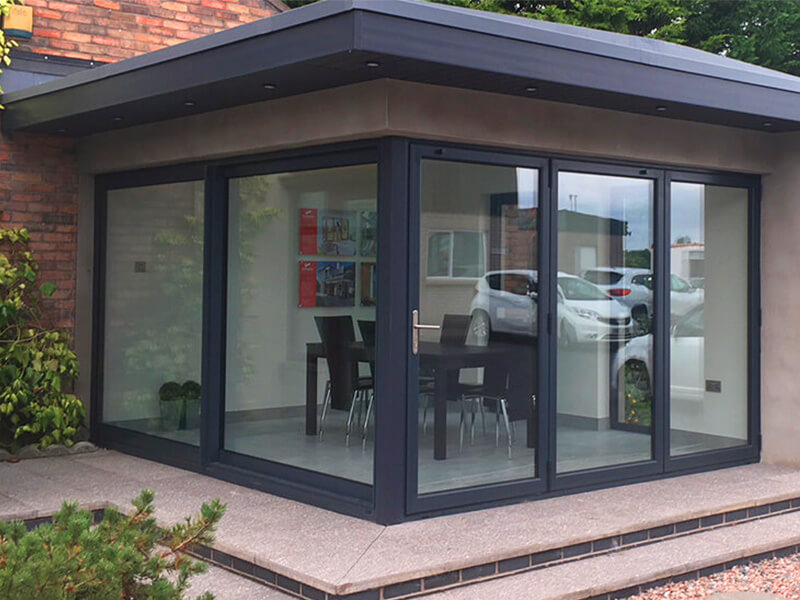 Will my extension be guaranteed?
At Turkington, we offer a 10 year warranty on all of our finished home extensions, as well as full post-installation support. Our priority has always been our customers and ensuring they're happy and confident from the day we agree the work.
Invest in a home extension from Turkington
We've been in business for over 50 years and have always strived to offer the best service possible for our customers in Northern Ireland. We offer a full 10-year warranty and full aftercare support with all of our home extensions. Get in touch with us online, request a free no-obligation quote. Alternatively, why not pop into your nearest Turkington showroom.