When looking to extend your home, it is good to know that you have several options; you can extend your space with a conservatory, sunroom, or the latest trend, a garden room! Here at Turkington, we are experts at installing a variety of home extensions in all shapes, sizes, and styles. With our vast range of windows, doors, and roof options, we can design a home extension that will seamlessly blend with the character of your home.
So, today we will be answering a range of questions about the latest home improvement trend – glorious garden rooms…
What is a garden room?
Normally situated away from the house, garden rooms are an indoor living space in your garden. Garden rooms have all the home comforts, such as electricity and insulation, which means you can use them no matter what the weather is outside! Turkington garden rooms are designed to be light, airy, and eye-catching.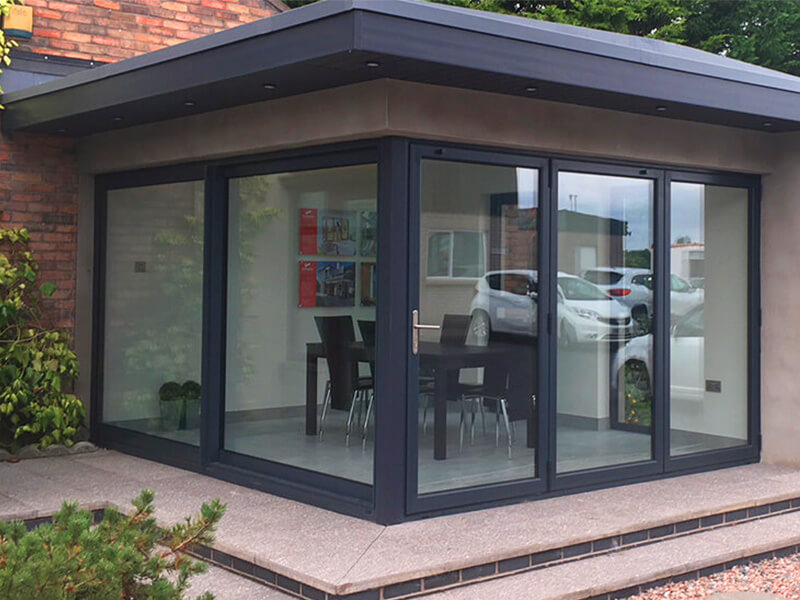 What do you use a garden room for?
As garden rooms are not attached to the house, you can create the perfect place to relax, work or exercise away from the chaos. For those who love to entertain but have children, you can set up an additional dining room or home bar to socialise in way past your kid's bedtime! No matter how you use your garden room, we can design it exactly to your needs!
You can completely personalise your garden room to your taste: if your home oozes traditional character, you can opt for a classic colour such as Chartwell Green, Cream, or oak. On the other hand, if you want a more modern extension, our garden rooms can be made in Anthracite Grey and black. You will also have the choice of door styles, both French and bi-folding doors can be fitted to your garden room!
Can a garden room add value to your home?
Increasing the square footage of your home is a certain way to increase its overall value. A garden room is one of the most hassle-free ways to extend your home as the work is carried out away from the structure of your home. The additional value will depend on the size, style and materials used for your garden room, but by adding this extension you can add at least 5% to the value of your home. For exact figures on how much value a garden room can add, you should speak to your local estate agent.
Do you need planning permission to build a garden room in Northern Ireland?
You will be glad to hear that you don't need planning permission to build a garden room, as long as it meets the following requirements:
The area covered by the garden room is not bigger than half the total area of the original property. If you have other outer buildings that were not part of the original house, then you will need to take this into consideration.
The garden room cannot be taller than the highest part of the existing house. The maximum height is 4m.
The eaves should not be higher than the eaves of the existing house. The maximum height of the eaves is 2.5m.
Any part of the garden room cannot extend beyond any wall facing a road.
The garden room is used for domestic purposes only.
It is also good to note that if you live in a conservation area, it is likely you will need consent to go ahead with any sort of extension. New build developments may also have restrictions in place, so be sure to check with your local authority or double-glazing expert!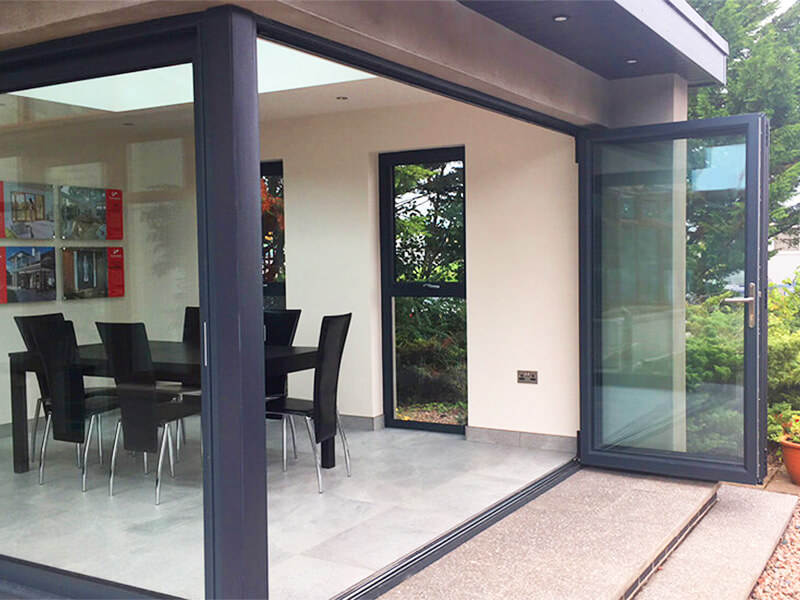 High-quality garden rooms for your Northern Ireland or Dublin home
Our high-quality garden rooms are available in practical uPVC or premium aluminium. We can also install energy-efficient glass or solar-controlled glass and when coupled with our Sika-Trocal roof or our Stratus Lantern roof, your garden room will be cool in summer and warm in winter. No matter what combination of materials you choose, your new weather-resistant garden room can be used all year round.
Offering a free design service that utlises state-of-the-art design software, we can render your garden room over a photograph of your house, so you can see exactly how it will look before you go ahead! Our experts are on hand to help you with any queries or questions, so contact us today and make your garden room dreams a reality!