Your front door is the face of your home. It is your chance to create a lasting first impression with both guests and passers-by. The style and colour you choose for your front door provides an insight into your personality and individual sense of style, and over the last decade, homeowners and businesses across Northern Ireland have really started to take this into consideration. Not only this, your front door is an opening into your own personal retreat, and is what will welcome you home at the end of the day, so it's definitely worth putting some thought into the practicality and style of your front door.
As well as introducing your personal style to the front of your home, you can use a replacement front door to improve your home security, energy efficiency, noise reduction and even increase natural light. We've put together our 5 expert tips on choosing your new front door to help you make the best decision for your home.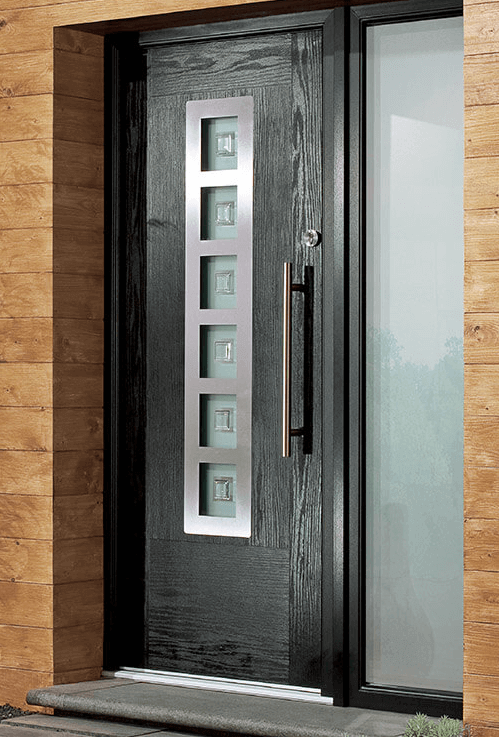 1. Front door material options
One of the first things you should consider when choosing your replacement front door is what material to opt for. Here at Turkington, we offer both uPVC front doors, and composite front doors.
uPVC front doors
Our uPVC front doors are a fantastic low-maintenance addition to any property. Although a modern material, our uPVC doors can be designed with more traditional features if you prefer a classic look for your home's entrance.
We supply and install a range of uPVC front doors, using market-leading systems offering multiple benefits at an affordable cost. Doors can be manufactured in a range of different styles with optional additions such as sidelights. They can also incorporate different types of glazing including obscure glass to maintain privacy and leaded or decorative glass to add a touch of personal style to your door.
Composite front doors
At Turkington, we offer both contemporary and traditional style composite front doors to suit any property. You can take a look at the different styles using our door builder.
Contemporary composite doors are ideal for modern homes, but can also add an eclectic twist to more traditional properties. Contemporary composite doors are perfect for homeowners looking for a higher class of front door, without compromising on the ultramodern appearance of their home.
Traditional composite doors are ideal for older properties, also adding a classic twist to more contemporary properties. Traditional composite doors are perfect for homeowners looking for a higher class of front or back door, without compromising on the classic appearance of their home.
2. Colour options for your front door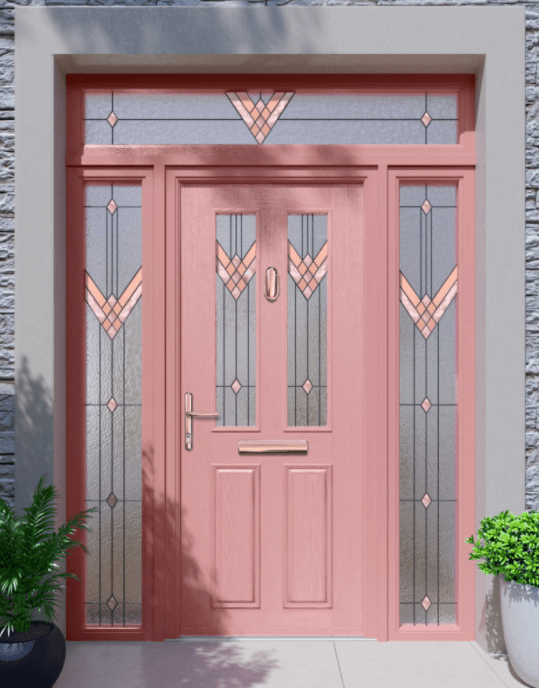 Once you have decided on a material and style for your front door, you can consider the different colour options available and find the perfect match for your home. Use our door builder to get a real feel for the different colours available and see how they'll look on your chosen door. We also offer duel colour doors, where the internal colour is different from the external. This way, your front door can blend seamlessly into your interior décor whilst the outside compliments your home's exterior.
For a lot of people, incorporating colours that are a little out of the ordinary, like pastels or bright colours, means stepping out of their comfort zone. Sticking to a neutral palette can be the safer option, but your front door is a much smaller area to commit to than an entire room, so why not be brave and experiment?
If you're looking for something a little different, full of luxurious charm and intrigue, why not take a look at the new rose gold collection from Apeer? This collection has been created to complement Apeer's pink door shades but also allows you a bolder choice when paired with creams and pastel shades. The exclusive rose gold glass and pink door colour palette are complemented by Apeer's stunning rose gold sweet furniture range, which includes a door handle, knocker, letterplate and numerals. Find out more about the rose gold collection here.
3. Security
There have been huge advances in door security in recent years and it is almost certain that a good quality new front door will improve your home and your family's peace of mind. Our doors are also secure, featuring high-security cylinder and shoot bolt locking as standard to keep any would-be intruders at bay.
If security is at the top of your list when replacing your front door, we would recommend one of our incredible composite doors. Certified to PAS 24 specifications, our composite doors surpass enhanced security performance guidelines. Featuring a highly insulating foam core, warp-resistant GRP skin and anti-bump, anti-drill, anti-pick and anti-snap Kite-marked cylinder lock barrels, these doors offer much more security than most other standard front door options.
4. Energy Efficiency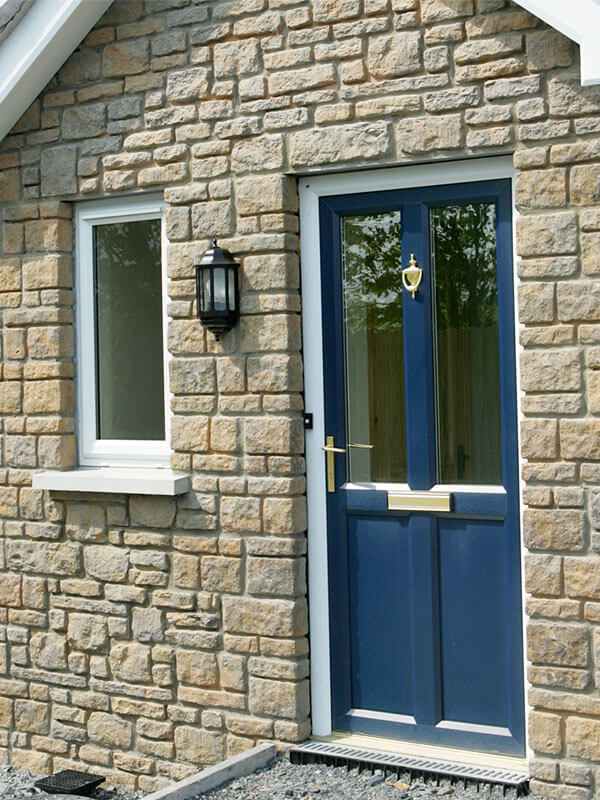 A good front door will contribute significantly to heat retention in your house. The effectiveness of insulation around the rest of your house and double glazing will be compromised if the front door is draughty or not adequately insulated.
Our high-quality uPVC front doors, combined with double glazed energy efficient A-rated, low-e glass provides homeowners across Ireland with a cost-effective front door that will last for many years to come. Not only do our uPVC entrance doors reduce your carbon footprint by effectively sealing your home from the cold, but they can also enable considerable energy savings via their excellent weather resistant qualities too.
A-rated as standard, our  Apeer 70 composite doors will keep your home as comfortable as possible. Heat won't escape and the cold can't get in so you will enjoy lower bills and a warmer home. All Apeer doors are supplied with triple glazing as standard for even greater thermal insulation.
5. Glazing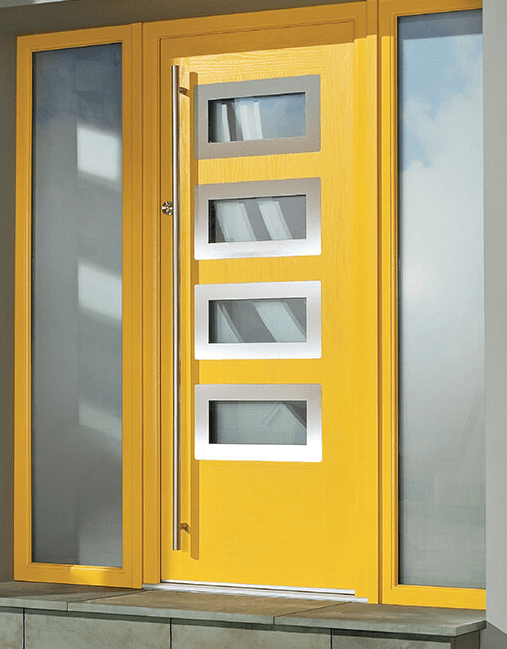 If the design of your front door includes glass, your glazing choice can completely change the whole look and feel of your front entrance.
Why not make a statement with a transom light? This is a glazing panel that goes above your front door. You can use a clear glass rectangle, a fan shape or even add a pattern or house number. You could also consider adding a single sidelight window next to one side of the door, or perhaps one on each side. Not only will this make a statement but t will allow more natural light into your home. Consider balancing factors such as the natural light gained from clear glass with the look and privacy from patterned or obscured glazing.
Discover your dream front door today
At Turkington Windows, we are proud of our reputation for providing stunning front doors to our faithful customers across Dublin, Portadown and Lisburn. Get in touch with one of the Turkington team today for further information and support on finding the best front door to protect you and your family for many years to come.