Choosing the right glazing is a big investment when replacing your windows, so if you're considering triple glazing, we've put together the reasons why it may be the right, and most efficient, choice for you.
What is triple glazing?
Triple glazing adds a third pane of glass to standard double glazing. By adding a third pane of glass, you create an extra layer to prevent heat escaping, and cold from entering, your home. The air spaces between the 3 panes of glass have a 90% fill of inert gas called Argon which increases heat retention and acts as a better buffer than dry air alone.
Triple glazed windows were first introduced in Sweden many years ago, as colder climates receive the most benefits from these high-performance windows due to their improvement of interior comfort climate. This makes them ideal for homes in Dublin and Northern Ireland.
Triple glazed windows have a lower U-value
The 'U-value' measurement is an industry standard for comparing the energy performance of windows. U-values measure how effective a material is an insulator. The lower the U-value is, the better the material is as a heat insulator. This means the lower the U-value of your windows, the better they will be at retaining heat within your home. This will help to keep your family warm and comfortable, whilst helping you spend less on your energy bills.
Below is a comparison of U-values offered by 'A' rated double glazing, 'A' rated triple glazing, and our 'A' rated triple glazing with two coats of Planitherm Total +. As an indication, the average U-value for triple glazed windows, with a Low-E coating, is between 0.9 – 1.0 W/m2k.
| | |
| --- | --- |
| Glazing | U-Value |
| 'A' rated double glazing | 1.2 W/m2k |
| 'A' rated triple glazing | 0.9 W/m2k |
| 'A' rated triple glazing with 2 x coats of Planitherm Total + | 0.7 W/m2k |
Triple glazing energy efficiency enhanced with Planitherm Total +
Here at Turkington, we typically use 'Planitherm Total +' thermal glass units. This glass has a metal oxide coating that helps reflect heat back into your home. It maximises solar gain and minimises heat loss. It also lets in natural light without the haze and tint of cheaper options.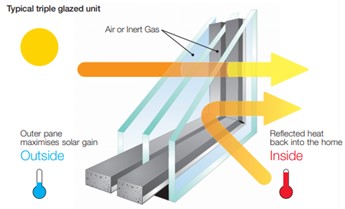 Triple glazing uses a warm edge spacer bar
Spacer bars are traditionally a continuous aluminium frame that separates the glass panes in a glazed unit. The spacer bar is bonded to the glass panes via a primary and secondary seal, creating the airtight cavity which is filled with argon gas.
Here at Turkington, we use a warm edge spacer bar. This is a plastic composite bar that insulates the edges of our glazed units. Unlike aluminium, plastic does not conduct heat, meaning our warm edge spacer bars retain heat better than standard spacer bars.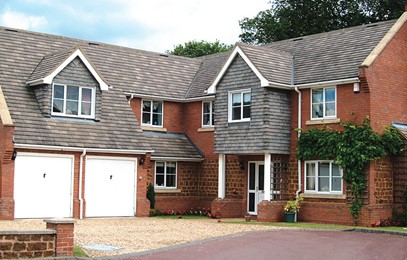 Triple glazing is draught proof
The intelligent structure of triple glazing continues to heighten the security of homes across Ireland, as it is exceedingly harder to break than double, single or secondary glazing. Not only does triple glazing offer better security, our Secure by Design locking and 4-part fitting system works to reduce draughts and noise helping to keep your home both safer and more comfortable.
Improve your home with new triple glazed windows from Turkington
Since our establishment in 1951, Turkington Windows has built a reputation as a leading window installer, supplying to homes across Dublin and Northern Ireland. If you would like to talk to us about replacing your old windows with triple glazed windows, you can get in touch here or get your free, no-obligation quote.
Enjoyed this post? Read our Top 10 benefits of replacing your windows.