At Turkington, we're proud of our extensive industry knowledge and we make it our priority to help customers understand exactly what we offer. With this in mind, we've compiled a list of the most frequently asked questions we receive when it comes to double glazing and windows. No matter what style of window or glazing you're replacing, we'll help you find the right solution for your home.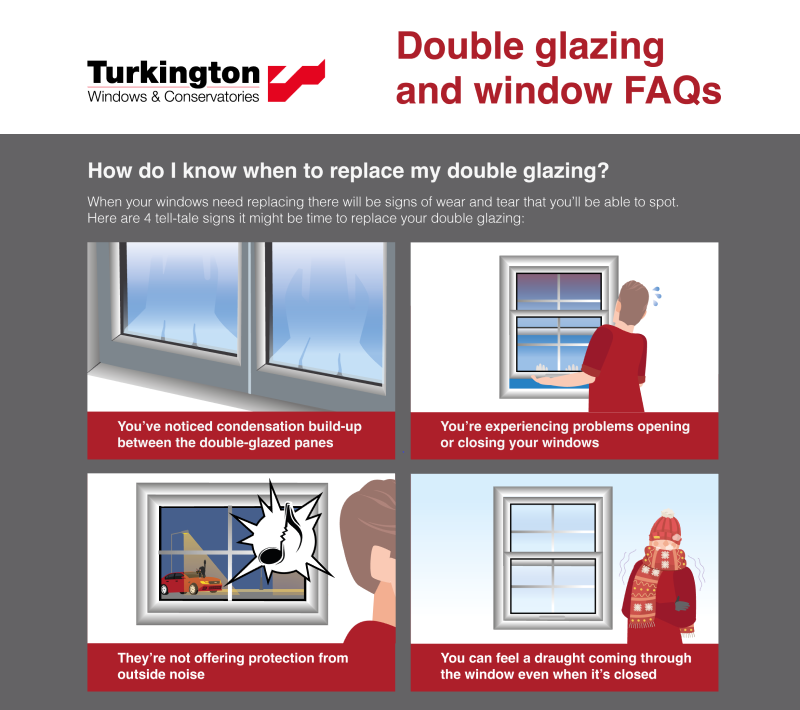 How do I know when I should replace my double glazing?
Here are 4 tell-tale signs it might be time to replace your double glazing:
1. If you've noticed condensation build-up in-between the double glazed panes of glass, it could mean that your window seals have failed, allowing moisture into your home. Once a seal fails, any insulating gas used to make the window energy efficient escapes. This means that your double glazing is now ineffective, and your energy bills will likely creep up. Moisture in the home has also been linked to health complications, such as respiratory problems and skin rashes, so it's important to address the problem of moisture in your home before the problem escalates.
2. If you experience difficulty when opening or closing your windows. Windows that were not installed correctly can sometimes develop balance issues, making them challenging to operate. Windows that are rusting, or rotting, can also be difficult to use. If you can't close your windows properly, you may not be able to lock them, which can impact the safety of your home.
3. If your windows aren't providing much protection from outside noise, they might not be sealed correctly.
4. You feel a draft when your windows are closed this can indicate poor installation and/or faulty seals.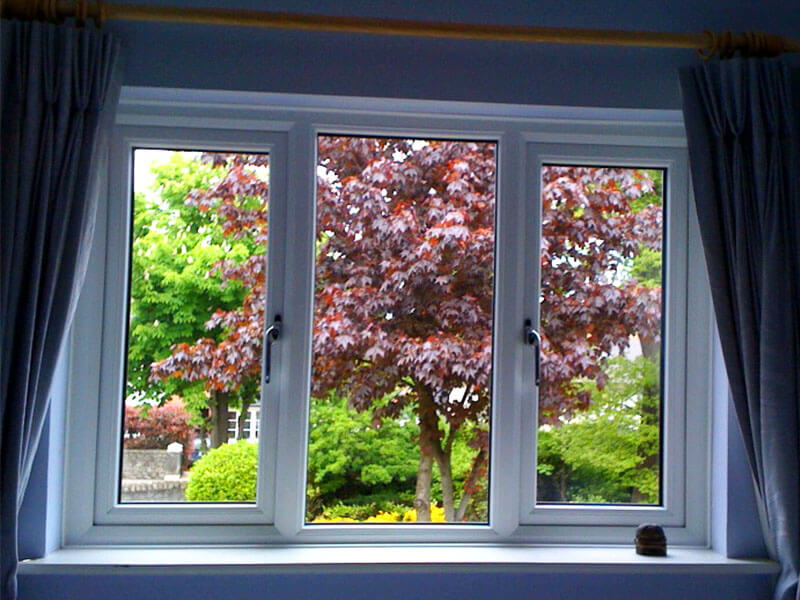 What material should I choose for my new windows?
When it comes to choosing a material for your windows, we offer two choices: uPVC or aluminium. Each of these materials has different features and benefits and the material you choose will be down to your own personal preference and needs.
uPVC: As the most popular window material, uPVC is well known for its reliability, hardwearing finish and for how easy it is to keep clean. It's also a more budget-friendly option than other window materials. We offer a variety of uPVC window styles, such as sash or casement, allowing you to create a unique look for your home, regardless of whether you live in an elegant Edwardian home in Belfast, or a contemporary property in the cosmopolitan scene of Dublin.
Aluminium: As one of the most robust yet stylish materials on the planet, aluminium is the perfect material for long-lasting window frames. It has a high strength-to-weight ratio, doesn't rot or rust, and is very easy to keep clean. Our selection of aluminium windows are certain to improve your home's thermal performance and enhance its visual appeal whilst also being resistant to harsh weather and highly secure.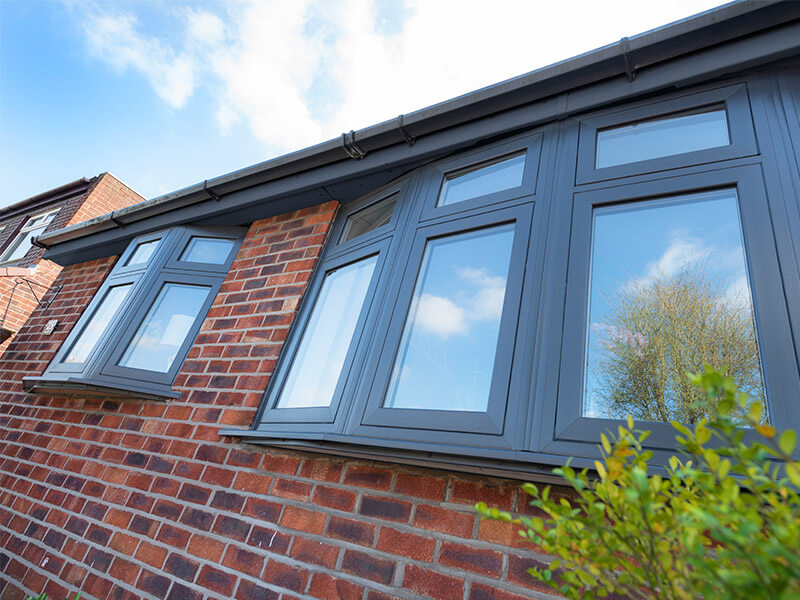 What type of windows do I have in my home?
If you're thinking about replacing the windows in your home, one of the first things you'll need to do is to identify what kind of windows are currently in your house.
Material: Identify the type of material used in the window frames it's usually quite easy to identify the material used, simply by examining the interior and exterior of the frame and feeling the frame itself. If you are struggling to identify the material, you can try to locate the name of the manufacturer somewhere on your windows. A quick internet search of the manufacturer may help identify the material you have. If you are really unsure of the material you have, you could ask one of our experts when you enquire with us and we will do our best to help.
Glazing: The majority of homes in Ireland today have double glazed windows. When looking at the glass, if you see two panes separated by a spacer bar then you have double glazing. Spacer bars are small pieces of plastic or metal that work to separate and support the two panes of glass in a double glazed window. If it's just a single pane, you have single glazed windows. If there are three panes separated by two spacer bars, then you have triple-glazed windows.
Opening: Identifying how your windows open is another important point to recognise. The most common types of opening include side hung and top hung. The difference lies in where the hinges sit. Side hung windows open outward with hinges on the right and left of their frame. Top hung windows swing open using hinges at the top of the window frame. Simply opening your windows will help identify which mechanism they use. There are a few other types of window openings, so if you would like help identifying your type then please let us know when you enquire.
How do double glazed windows reduce heat loss?
Energy efficient home improvements, like double glazing, can reduce household bills and increase house value, and they will also reduce your carbon footprint.
For heat energy to be transferred from hot spaces to cold spaces, it requires a good conductor. The trapped air, mixed with argon gas, in-between the glass panes cannot circulate, so it is therefore a poor conductor reducing the rate of heat loss from inside the house. With less heat able to leave the room through the window, the room stays warmer for longer.
Our highly popular double glazing offers energy efficient A-rated, low-e glass to homeowners across Ireland looking for a cost-effective way to upgrade single glazed windows that will last for many years to come. Not only does our high-quality double glazing reduce unwanted noise and your carbon footprint, but it also enables considerable energy savings via its excellent weather resistant qualities too.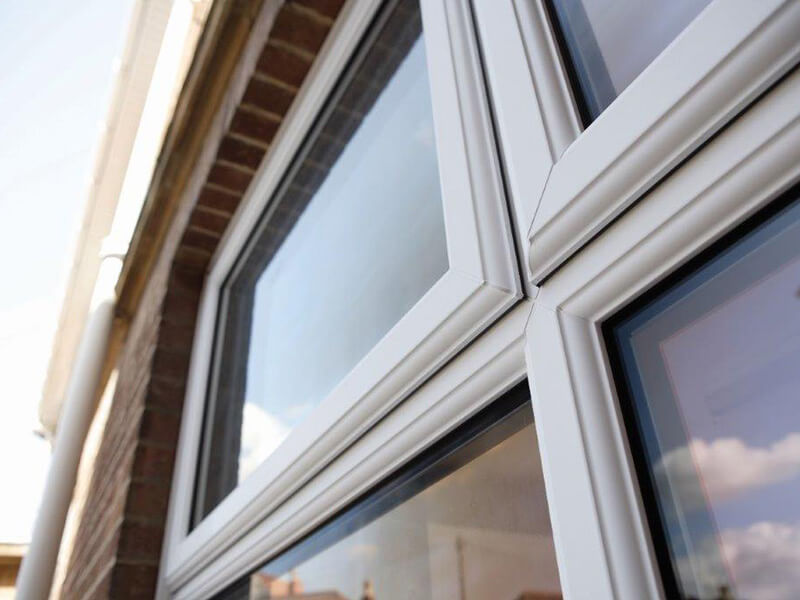 Do I need planning permission to replace my windows?
No. You do not need planning permission to replace existing windows or doors, though you will need to check to see if you are located in a conservation area as you may be restricted with what designs or materials you are allowed to use. You can check this with your local council. If you are building an extension, you will need planning permission.
How secure are your windows?
We pride ourselves on offering the utmost security for your home, giving you total peace of mind. All of our window installations are incredibly secure, featuring high security locking as standard to keep any would-be intruders at bay. You can put your trust in us to keep your home safe and secure.
How much does double glazing cost?
Our windows are bespoke, just like our quotes. In order to give you an accurate quotation, we ask that you get in touch with us directly, so we can tailor a price specifically to your individual needs. As always, there is no obligation.
What do window energy ratings mean?
Window energy efficiency rating schemes are based on a scale that ranges from A-G. This system is similar to the labelling system used that you may have seen on fridges, washing machines, and cookers. An 'A' rating indicates a good level of energy efficiency, whilst G is the lowest rating. Low rated windows will not normally satisfy building regulations requirements. We're confident that all of our windows, regardless of material or style, meet or surpass the recommended energy efficiency level.
Can I get different coloured uPVC windows?
Add a splash of colour to your home and let your personality shine through with our range of uPVC window colours and finishes. The windows are available in an array of colours, ranging from classic shades such as White and Cream through to woodgrain foils which mimic the natural appearance of wood for a low-maintenance alternative to timber. We can also offer woodgrain on white colour options, creating a different look inside and outside of your home and giving you increased style choice when choosing new windows.
Some popular uPVC colour choices include Chartwell Green, Irish Oak, Cream, and Anthracite Grey.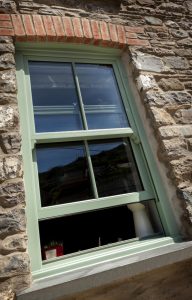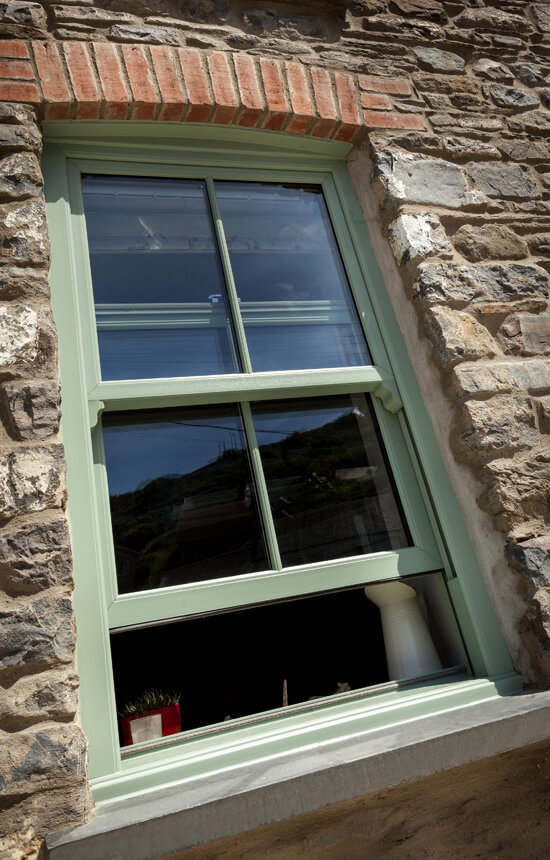 You are in safe hands with Turkington
We at Turkington Windows hold the enclosed approved accreditations which should assure you that we aim to achieve the highest standards in sales, survey, product specification, manufacture, installation and aftercare. After all, we have been in business for over 50 years and are constantly striving to offer the best window service in Northern Ireland. 98% of our surveyed customers would recommend us and we offer our real 10 year guarantee. Contact us today and let us take care of your next home improvement project.
✓ BFRC approved 'A' Rated Windows
✓ Members of Glass and Glazing Federation (GGF)
✓ Safe-T-Cert approved
✓ Construction Line approved
✓ Investors in People
✓ ISO accredited for quality, environmental and health and safety
✓ Trading Standards Approved Code