uPVC remains one of the nation's most popular choices of window material, and when we look at the benefits uPVC offers, it's not hard to understand why. It's a versatile and reliable material that requires minimal maintenance and it comes available in an array of styles, colours, and finishes to match and complement homes across Northern Ireland. It is also highly energy efficient and cost effective by being budget friendly to fit and helping to keep your energy bills down once installed.
uPVC frames paired with double glazing make for an extremely energy efficient, stylish, and secure window choice. This is why all of our uPVC windows, no matter what style you opt for, come double glazed as standard.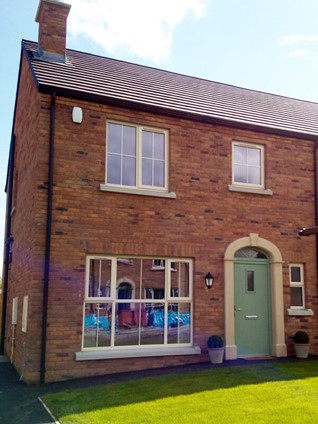 Double glazed uPVC windows
When looking for a cost-effective way to improve your home's energy efficiency, our double glazing is high performing and offers all the benefits needed to give you a comfortable home.
The basic concept for double-glazed windows is that by trapping a layer of inert gas to act as a natural insulator between two panes of glass, the amount of heat leaving your home is dramatically cut. Our double glazing incorporates a space filled with 90% Argon gas. Argon gas is commonly used to fill the space between double glazed panes as it is colourless, harmless, odourless and totally inert to other substances.
At Turkington, we always utilise the most modern materials available for our double glazing. We use the Planitherm Total + heat reflective coating and a warm edge spacer bar. These are fitted into our superior and robust multi-chambered reinforced uPVC frame.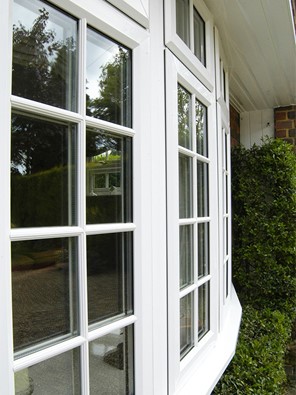 Why choose double glazed uPVC windows from Turkington?
There are many reasons why our double glazed uPVC frames are the perfect solution for your home:
Energy efficient double glazed uPVC windows 
Our double-glazed argon-filled windows utilise warm edge technology, delivering savings of up to 28% on your heating bills and achieving U-values as low as 1.0 W/m2 K. As well as conserving heat in your home and keeping chilly draughts out, our double glazed uPVC windows will reduce your carbon footprint and will help towards a greener future.
Secure double glazed uPVC windows
Security is at the centre of all of our home improvement products. Utilising internal glazing (glazing fitted and secured from inside your home) and vigorous security features, our windows are secure so you will always have peace of mind that you and your family are safe.
Double glazing is also naturally harder to break than single glazing as it incorporates a second layer of glass, adding an extra level of security.
Stylish double glazed uPVC windows to suit your personal style
Our double glazed uPVC windows are available in an array of colours, ranging from classic shades such as White and Cream, through to woodgrain foils that mimic the natural appearance of wood for a low-maintenance alternative to timber which is great for a classic style property. We can also offer woodgrain on white colour options, creating a different look inside and outside of your home and giving you increased style choice when choosing new windows. Why not browse the different uPVC window styles we offer here.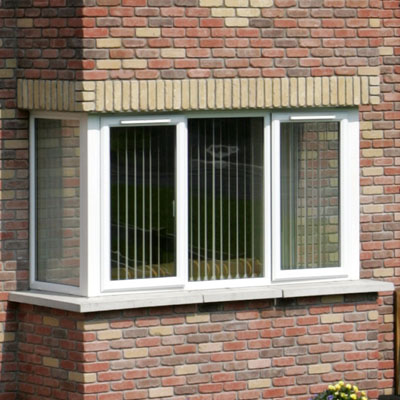 Choose double glazed uPVC windows from Turkington
We have been in business for over 50 years and are constantly striving to offer the best window service in Northern Ireland. 98% of our surveyed customers would recommend us and we offer our real 10-year guarantee. Contact us today and let us take care of your next home improvement project.
Read next: