Is your home starting to burst at the seams? Do you long for extra living space that you can enjoy all year round? If you want a much-needed extra room, an orangery could be the perfect solution. Orangeries make a beautiful addition to any home and can be customised to perfectly you're your requirements. Read our helpful advice which contains 4 inspirational orangery ideas we are sure you'll love.
Orangeries a stylish addition for any Northern Ireland or Dublin home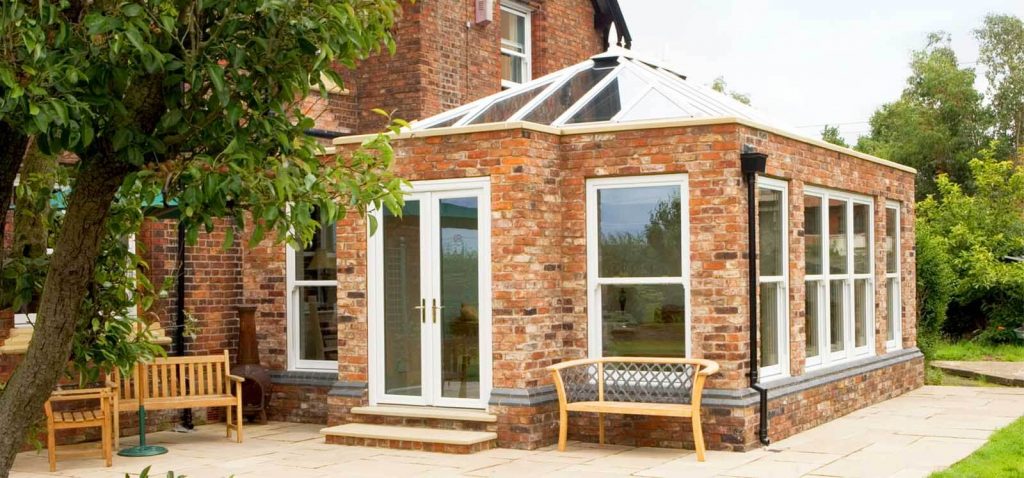 Orangeries came into fashion in the 17th century and were intended to house rare plants over the cold winter months. Originally constructed from brick and expensive glass, they were once symbols of wealth and fashion. Today however, orangeries are no longer exclusively for landed gentry. Nor are they only used for wintering fragile plants. Today's modern orangeries are not only affordable but can be adapted to suit a variety of needs. Whether you want a separate entertainment space, or somewhere to relax at the end of the day, an orangery makes an ideal choice.
Stylish uPVC frames in a wide range of options
Contemporary or classical. Large or compact. Ornate or minimalist. Whatever type of orangery you dream of, we will have a style to suit. Our orangeries are available in a wide range of shapes, colours, and sizes. There are also numerous glazing options and an array of different doors and windows for you to choose from. Indeed, with the massive range available and your imagination, you really can have a totally bespoke orangery, that will make your home truly stand out.
Breath-taking bifold doors bring the outside in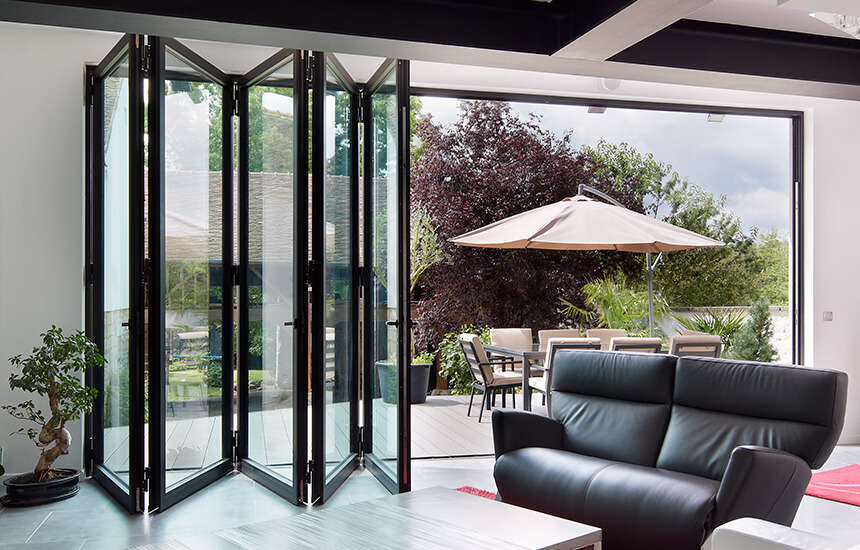 If you really want to showcase your outside space, consider having breath taking bi-fold doors in your orangery. Impressively slim and stylish, bifold doors give an uninterrupted view of your garden and will flood your orangery with light. Bi-fold doors are available in an impressive range of sizes and configurations.  Indeed, whether whatever the size of your new orangery, bi-fold doors can be uniquely customised to perfectly fit your space.
Chic and timeless French doors, add a touch of flair
French doors make a perfect choice if you want to achieve a timeless and classic look. Indeed, French doors really add continental flair to any orangery. French doors are beautifully crafted and are available with a range of glazing options from Georgian or bevelled through to decorative glass. Meaning you can really add a touch of personal style to your orangery. You can also choose from inward or outward opening options too. Whichever options you choose, our French doors offer incredible security, energy efficiency and thermal performance
Celebrate the sky with an UltraSky roof lantern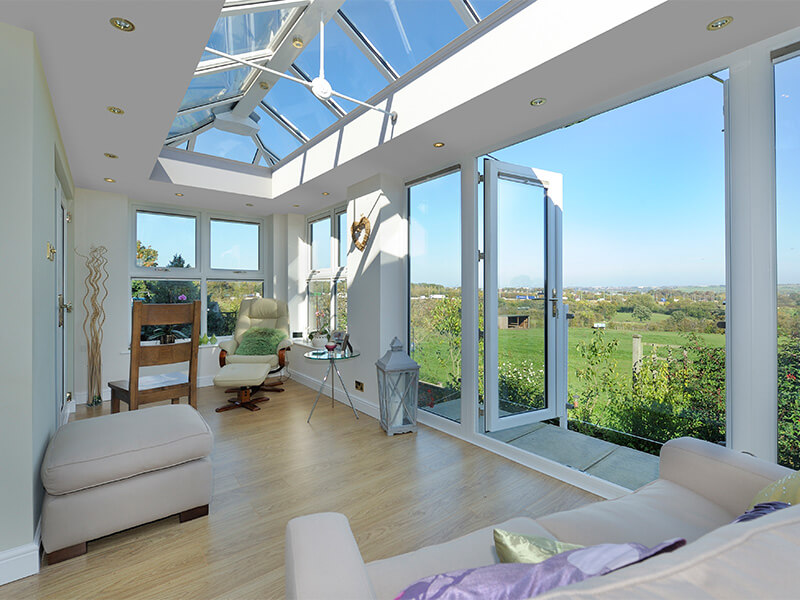 With low-maintenance, sophistication and charm from every angle, an UltraSky roof lantern perfectly complements any new orangery. Roof lanterns are available in range of sizes and really allow you to see the sky in all its beauty. Whether it's a beautiful sunny day, or a clear starry night, the view will take your breath away. Roof vent options are available too, either with a manual opener, automatic opener or an automatic opener with rain and temperature control. Whatever option you choose, a stunning roof lantern really will be your orangeries crowning glory.
Beautiful bespoke orangeries across Ireland
If you would like more help on how you could transform your Northern Ireland or Dublin and surrounding counties home with a new orangery, call us on 0800 028 1812,  contact us or visit our showroom in Portadown when we fully re-open, and one of our experienced members of staff will be delighted to help.