Kerb appeal of the front of your home is important. It can affect the value of your home, welcome guests or even be the talk of the neighbourhood. However, you are more likely to spend time in your garden, especially in the warmer months. Come BBQ season, making the most of the transition between your home and the garden is an effective way to use this valuable space, no matter how big your garden is. Bifold doors and sliding patio doors are both options that make this transition as effortless and aesthetically beautiful as possible.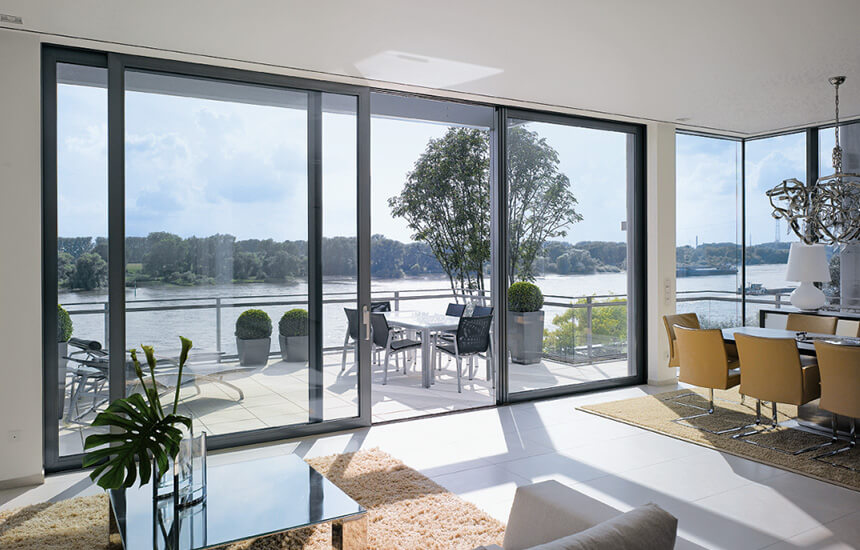 What is the difference between a bifold door and a sliding patio door?
Stylish sliding patio doors can come in anything from two to six glazed panels, allowing you to have a fully glazed wall if you wish. While some previous generations of sliding doors were difficult to open, modern sliding doors allow the heavy glazed panels to glide effortlessly along their tracks for smooth functionality.
Bifold doors also have expertly engineered tracks for easy operation of a large expanse of glass, but their design allows for the entire wall of glass to be opened up. The door is made up of multiple glass panels with frames that fold in on themselves into a bundle, creating a wide opening.
Bifold vs sliding patio: head-to-head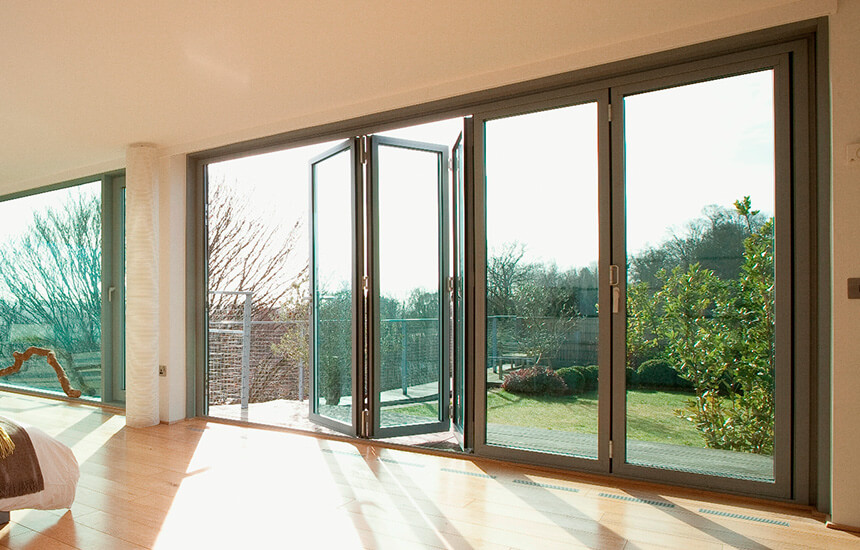 Security
Traditionally, patio doors were vulnerable to attack as they only had a simple one-point locking mechanism. These doors have come a long way over the years and are now steel-reinforced, secured with multi-point locks and have anti-jacking technology to prevent intruders knocking the door off its track.
Due to their design, many people think that bifold doors are flimsy and not secure, however, don't let their looks and easy operation fool you. State-of-the-art locking cylinders are featured in their multi-point locking system as standard and all glass units are made from heat-treated, toughened safety glass to easily meet and comply with modern building regulations.
Space and natural light
Most homeowners with a small garden will select sliding patio doors for the rear of their home to maximise space. However, bifold doors are available in a variety of sizes and configurations, so they shouldn't necessarily be ruled out if you're short on space. Bifold doors are perfect for making the most of our available interior space.
There's a multitude of reasons that scientists stress the importance of natural light, from boosting your mood to improving sleep and even keeping seasonal depression at bay. Due to their floor to ceiling design, both door options welcome in a flow of light which can make a room appear larger than it is.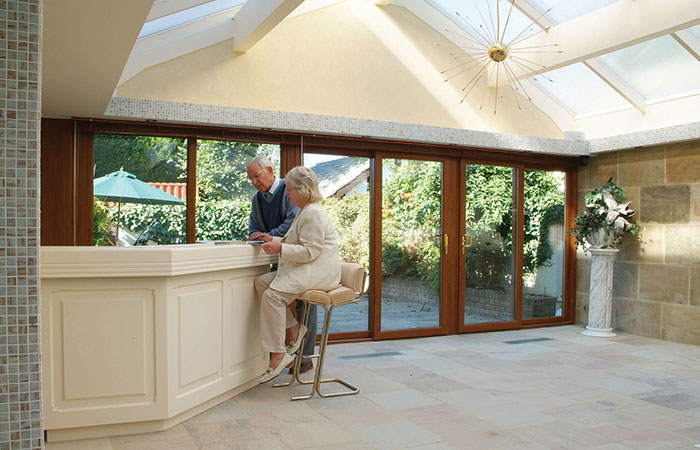 Ventilation and energy efficiency
Depending on their configuration, sliding doors could be opened fully to provide a wide opening and effective ventilation. Bifold doors also have the edge when it comes to their recessed threshold, compared to sliding patio doors, removing the trip hazard and ideal for homes with little ones or accessibility requirements.
Don't let the fact that they offer outstanding ventilation make you think that bifold doors aren't energy efficient. Our aluminium bifold doors are expertly engineered to handle the Irish weather and create a warmer living space, even in the dead of winter. As are our aluminium sliding patio doors, which exceed modern building regulations for energy efficiency. The PVC sliding doors from Turkington feature thermally efficient multi-chambered frames. The chambers trap pockets of warmth, making it difficult for heat to escape your home.
Customisation
Our PVC patio doors are available in over 20 colours, including woodgrain finishes for a natural timber look. The colours are permanently industrially bonded to the door's profile ensuring that it won't peel, flake or fade. The aluminium sliding patio door variant offers more colour options and bonded with a powder-coated finish that is durable and easy to maintain. A variety of furniture is available for both sliding door options.
Bifold doors naturally have an impressive contemporary aesthetic and, while shades of grey are the most popular colour choice, you can pick the ideal shade from a vast palette of colour to perfectly suit your home and personal taste. A dual colour option is also available, with one colour to match the interior of the home and another to complement its exterior.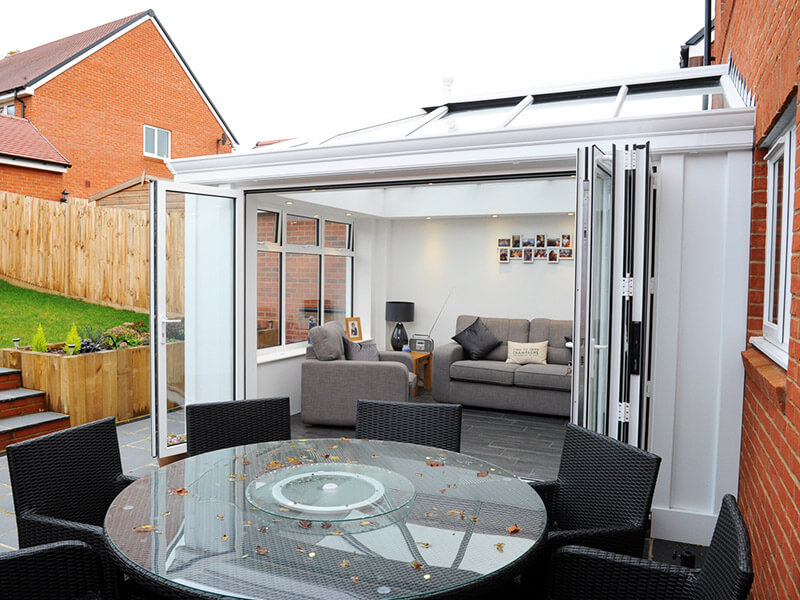 Patio and bifold doors across Ireland
We hope we've given you more of an idea of which kind of door you'd like to opt for. If you're still not fully decided, see the doors for yourself at one of our showrooms in Portadown, Lisburn or Dublin. There's nothing quite like seeing them in the flesh and you can chat to our friendly and knowledgeable team of experts for further information.
Turkington also provides a variety of other home improvement products, including windows and conservatories. Give us a call or contact us online for further information on any of our products or services.