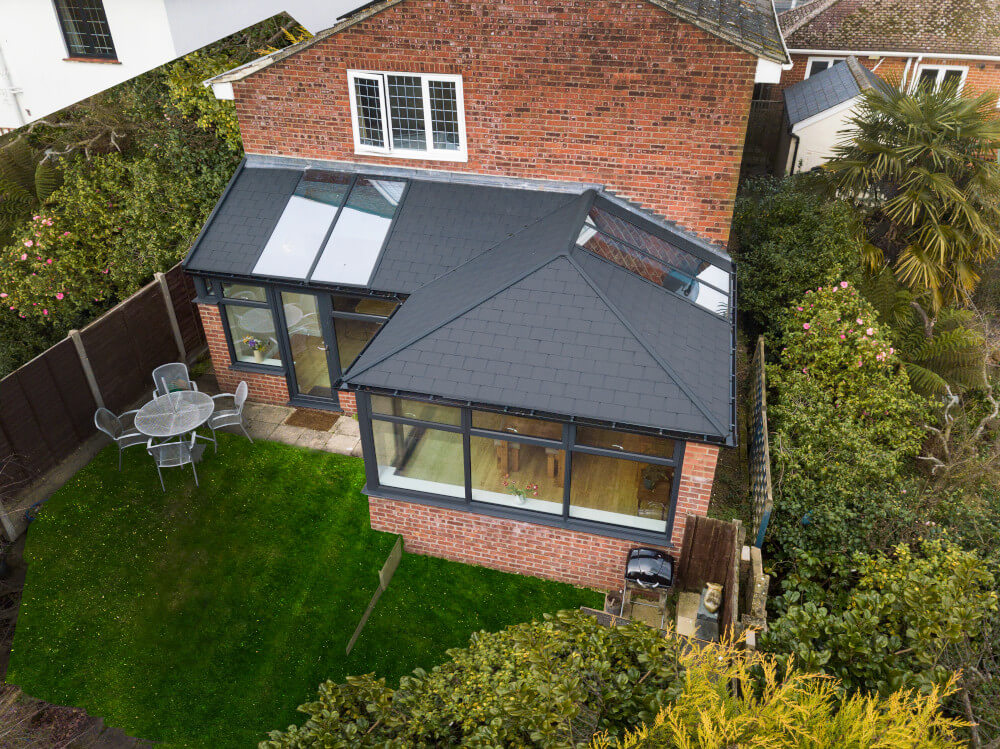 You need Building Control and maybe Planning Permission
When it comes to changing a conservatory glass roof for a solid one, many homeowners have sadly been badly advised by misinformed neighbours or salesmen looking for a quick sale without advising of potential pitfalls.
This has led to expensive and time-consuming issues chasing retrospective planning applications and building control applications. In several instances, homeowners have had to take down structures erected illegally where neither the homeowner nor installer has obtained the necessary approvals before adding a solid roof. The lack of written building control or planning approval can also cause issues when trying to sell your home.
Change of Use
When it comes to replacing a conservatory roof with a solid roof, most conservatory owners don't realise that they can only do so by first obtaining Building Regulatory Approval, as by changing from say a glass roof to a solid insulated one, the classification of the structure changes from a temporary structure to a permanent one, and in many cases, the "change of use" must be registered.
Is the new conservatory roof structurally strong enough?
The existing roof will either be glass or polycarbonate and most typically will have UPVC windows and doors. If the roof is glazed, it is likely the vertical frames will have been designed to carry the roof load. In the case of a polycarbonate roof, the vertical frames may only have sufficient reinforcement to carry that particular load. If there is insufficient reinforcement (which is usually the case) new window and door frames will be needed to support the weight of the roof. Several "new" replacement solid roofs have already collapsed due to insufficient load-bearing, poor design and lack of structural calculations undertaken by installers.
According to the Local Authorities Building Control guidance on adding a solid roof, "your local authority building control team is likely to ensure that the roof and supporting structure fully complies with the Building Regulations." So before ordering a solid roof for an existing conservatory make sure the necessary planning permission and Building Regulatory Approval is obtained before parting with your money or allowing work to start.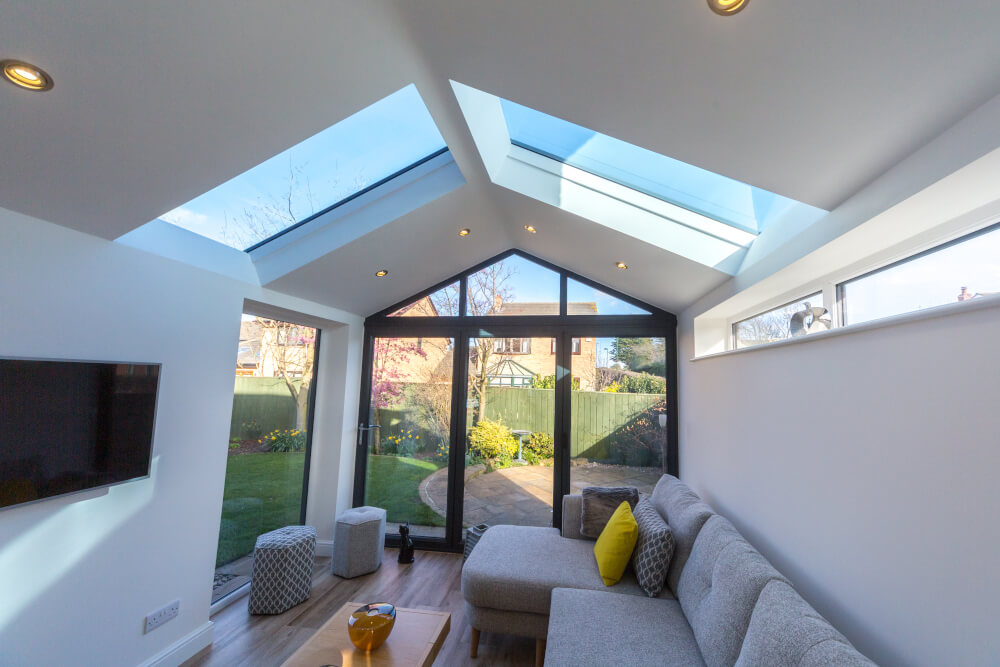 What we at Turkington offer

:

You can, of course, have the conservatory conversion of your dreams with Turkington. We will obtain all the necessary permissions by using an approved roofing system and architect's designs that building control will pass.
Managing regulations:
We work with our architect to produce architectural drawings which must be submitted to building control to their standard. We will also advise you if you need to apply for planning consent or 'Change of Use'. We will fill out this paperwork on your behalf and submit it for you. These plans will include the specification of our roofing system to ensure that building control requirements are met.
Once we have the necessary approval we will commence our work. Building control will routinely inspect to ensure that we are carrying out the work to the required standard and subsequently issue the 'Building Control Certificate'.
This means that you have peace of mind that the new work is done to the correct standards and you are covered for structural strength, waterproofing and mould protection. It will also provide you the assurance that you won't be faced with legal action to remove the structure as it will be pre-approved.
Is the new conservatory roof structurally strong enough?
Each roof design uses local weather data to calculate and engineer wind AND snow loads – so yes it is strong enough! The UltraRoof can have 4m spans for bi-folds without extra support and offer superior strength for larger designs and additionally, it never requires Tie Bars – ever!
For your total peace of mind, Turkington Ultraframe solid roof systems are certified to meet current Building Regulations, but they have also been fully fire-tested as opposed to relying on individual part ratings.
Is the UltraRoof warm enough?
Turkington's UltraRoof is the warmest tiled roof available, which means that it will become a part of your home that can be used every day, regardless of how cold it is outside. A Turkington UltraRoof fuses thermal insulation with a lightweight tiled roof solution becoming a complete warm roof system, with no cold bridging and unrivaled thermal performance.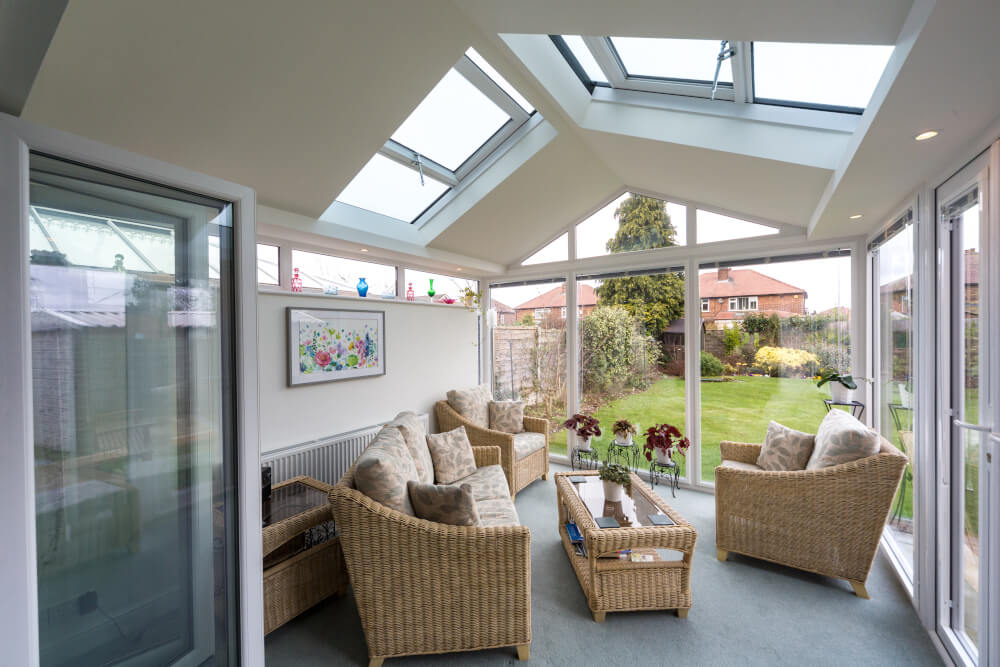 Is the UltraRoof bright enough?
UltraRoof features full-length glazing panels – not just smaller Velux-type windows. These full-length panels not only look stunning from inside and out but also ensure that the interior is flooded with natural light.
It's finished on the outside with beautiful and authentic looking lightweight tiles, available in three colour finishes to match or contrast your home. Our UltraRoof also offers a magnificent vaulted plastered ceiling on the inside, enhancing the feeling of space.
Is the UltraRoof fire safe?
Our UltraRoof structure was fire tested in 2017 and the tiled conservatory roofs are fire rated as B-roof according to EN 13501-5: 2016. UltraRoof is fire rated as AC according to BS476-3:2004. UltraRoof is the only tiled roof to have a full system fire certificate for your complete peace of mind.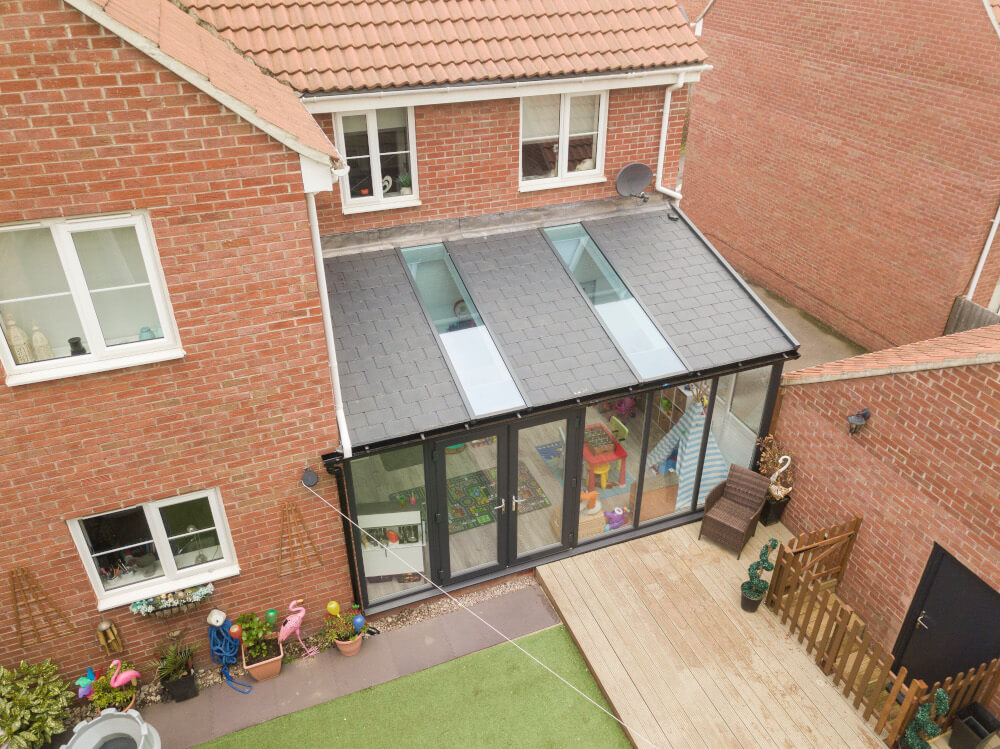 In summary:
Our Turkington conservatory roof replacement system offers a long-term safe, warm and regulatory compliant system. As in all things in life, if it is worth doing, it is worth doing right.
Turkington, quality to a 'T'.