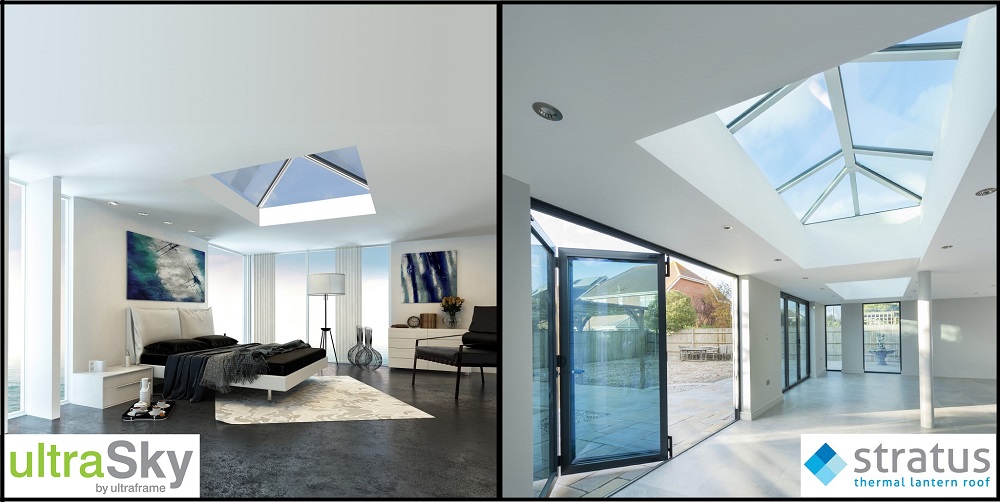 Roof lanterns are the perfect finishing touch for an extension, orangery or any flat roof in your home. Elevated glazed panels let light fill your room while giving you a beautiful centrepiece that will always impress. They're the perfect choice if you don't want a fully glazed roof but still want to enjoy a light-filled and bright home.
Here at Turkington Windows & Conservatories, we're delighted to offer you two stunning options: Ultraframe's UltraSky and Synseal's Stratus roof lantern. Let's take a look at what they can offer your home.
Roof lanterns made from ultramodern materials
Both roof lantern systems are made of aluminium, a material certain to push your home into the 21st century. With a modern look as well as performance, aluminium is exceptionally strong.
This makes it the perfect choice for a roof lantern as it can hold large glass panes without needing bulky frames.
Stratus roof lantern
The Stratus roof boasts a 66% smaller ridge than other systems to give a beautiful aesthetic.
UltraSky roof lantern
The UltraSky has bars that are four times stronger which means you can enjoy more light compared to frame. They're strong enough to hang a chandelier to add that touch of elegance to your home.
Keep your home insulated and warm all year round with a roof lantern
Aluminium is a fantastic insulator so you don't need to worry about losing heat through your new roof lantern. Both roof lantern systems have thermally broken frames which prevent cold air transferring to the inside of your home.
UltraSky roof lantern
The UltraSky roof lantern has an innovative protection system that gives it added water and weatherproof qualities ensuring it never lets you down. With u-values as low as 1.1 achievable, the UltraSky will keep your warmth in all year round.
Stratus roof lantern
The Stratus system with polyamide nylon glass composite thermal breaks claims to be over 500x more efficient than aluminium alone. This makes it the perfect choice if you want a room to use all year round.
Beautiful focal points to add the wow factor with a roof lantern
Roof lanterns fit perfectly into any style of home and you have options when it comes to personalising them.
Stratus roof lantern
The Stratus roof lantern can be made in powder-coated Crisp White perfect for a more traditional aesthetic or an ultra-modern Anthracite Grey.
The stratus can be made in a custom design, available in contemporary two or three-way designs and can be made up to 3m by 6m.
UltraSky roof lantern
The UltraSky roof lantern comes in White, Anthracite Grey or Satin Black.
Whether you want your roof to stand out or blend in with the rest of your home, one of these colours will be perfect. Choose white if you want a more classic look or grey for a touch of modern sophistication.
The UltraSky is also available to be customised coming in configurations up to 2m by 4m.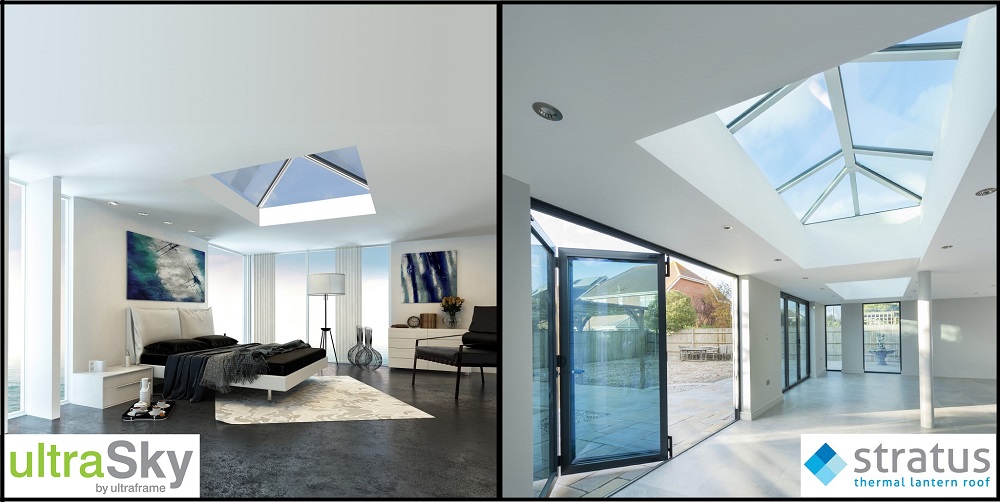 Turkington Windows: double glazing in Ireland and much more
No matter the size of the project, we've got you covered. Turkington has an array of products including windows, doors and home extensions to improve the value and aesthetic of your home. Since opening our doors back in 1982, we have built a reputation for our high-quality products and expert knowledge and service across Ireland. To see what we could do for you, contact us online or get a free online quote today.