Composite doors are the superior choice when it comes to taking care of your home and family. Crafted using a variety of materials and using the latest advancements in technology, it's not hard to see why they've risen to prominence over the last few years. Composite doors feature a remarkable insulating and secure foam core intelligently enclosed by a Glass Reinforced Plastic (GRP) skin.
This intelligent design makes composite doors resistant to weathering and virtually maintenance-free, so your door will look its best for many enjoyable years to come.
With a range of design options, composite doors always impress, but what are their benefits?
1. Composite doors have the 'wow factor'
Whether you opt for one of our contemporary composite front doors or a more traditional one; you can guarantee that it will add a striking appearance to the front of your home.
Traditional composite doors are ideal for older properties or for adding a classic twist to a more contemporary property. Traditional composite doors are perfect for homeowners looking for a higher class of front without compromising on the classic appearance of their home. Utilising the benefits of uPVC and double glazing with a more classic look makes these doors an ideal solution for many homeowners.
Contemporary composite doors are ideal for modern homes, but they can also add an eclectic twist to more traditional properties. Contemporary composite doors are perfect for homeowners looking for a high-class front door that compliments the ultramodern appearance of their home.
2. Composite doors are strong and durable
With an insulating foam core and strong outer frame, the multi-layered composition of a composite door provides strength and resilience. This makes it perfect for residential use in any environment.
An expanded mesh reinforcing is inserted into the super-strong, high density, core alongside an extremely strong vertical steel bar that together far exceeds all Police-approved security standards.
3. Composite doors require little to no maintenance
One of the biggest draws of a composite door is that it doesn't require time-consuming and costly maintenance to keep it in perfect condition. Contrary to traditional timber doors, composite doors are not prone to not fading, warping, or cracking and you don't need to worry about repainting. A simple wipe down with a damp, soapy cloth will keep your door looking as good as new.
4. Composite doors thermal efficiency is second to none with Apeer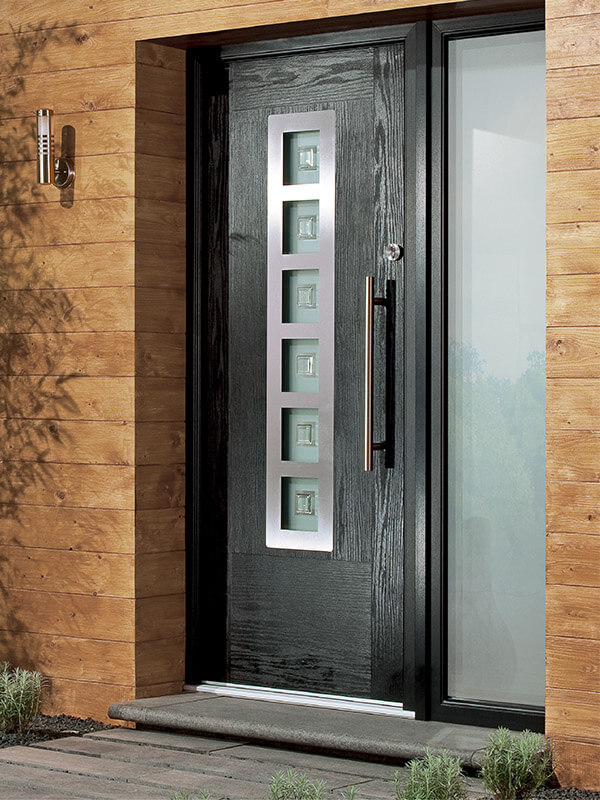 A-rated as standard, our Apeer 70 composite doors will keep your home as comfortable as possible. Heat won't escape and the cold can't get in so you will enjoy lower bills and a warmer home. All Apeer doors are supplied with triple glazing as standard for even greater thermal insulation.
Discover more about our range of Apeer Composite Doors here.
5. Composite doors provide noise reduction
As well as providing superb energy efficiency, a composite door's structure makes it the perfect choice for busy areas and main roads. Unwanted noise is reduced so you can enjoy your home in peace and quiet no matter where you live.
6. Composite doors in a colour that perfectly suits your home
Your front door is your first chance to make an impression. Choosing an exciting colour will brighten up your home and increase kerb appeal. Our Apeer composite doors come in classic colours such as Traffic Red and Chartwell Green as well as any other RAL colour. You can rest assured that your chosen colour will stay as bright as the day the door was installed for many years to come.
Are you looking to bag a bargain? Get in touch with us today to discuss your new composite door!
7. A composite keeps your home and family safe
The enhanced security of a composite door is another reason it's such a popular choice. A composite door offers superb protection against intrusion with an anti-drill, anti-pick, and anti-snap cylinder.
The effective locks and strong frame keep your home secure. For even further peace of mind, you can rest assured knowing Apeer's composite doors also have some top-tier security standards.
8. A composite door will keep your home safe against the elements
With effective weathertight seals, no matter what the weather throws at your home, you can be assured your Apeer composite door will be an efficient defence. Draughts will no longer be a problem and you can stay comfortable throughout the seasons.
9. Personalise your composite door with attractive hardware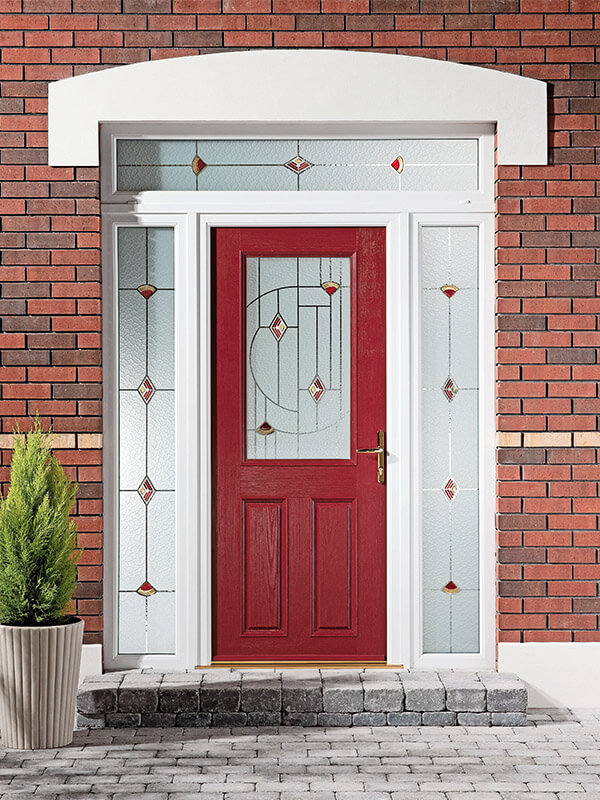 To add the finishing touches to your door we have a range of attractive and secure hardware. Choose from letter plates, knockers and handles in white, back, gold, chrome or silver to match to your style.
10. Our composite doors are guaranteed to last
Our Apeer composite doors come with a 10-year guarantee as standard but will last you much longer. When professionally installed by us, you will receive the best quality composite door and exceptional service that you can trust.
Transform your home with a composite door from Turkington
If you'd like to enhance your home with a beautiful composite door or any other home renovations from conservatories to roofline products, Turkington Windows are here to help you.
For more inspiration, visit one of our showrooms or get in touch with one of the Turkington team today. We look forward to guiding you in the right direction on your home improvement journey.
Related posts:
Traditional Vs contemporary composite doors