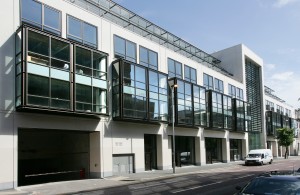 Aluminium products: high-end, high performance
We understand that you want a reliable product that looks great and offers excellent performance… supplied by a company that offers excellent customer service. Here at Turkington, we can offer a large variety of aluminium products that are ideal across a huge range of domestic and commercial projects. We supply and install the high specification Reynaers range of aluminium windows, doors and curtain walling as well as frameless and stepped glass options. We have a broad range of windows available in standard and slimline profiles, and with a variety of specifications from the entry point but efficient ECO 50 range through to CS77Hi+ window, offering market leading performance with whole window u-values from as low as 0.9 w/m2k.
If you're building your own home, adding a grand extension, or completing a commercial property our made-to-measure aluminium doors deliver industry-leading performance and stunning aesthetics.

If you want minimal sight lines the stunning CP130 and CP155 Lift & Slide doors can enclose large openings with a minimum of framing and our CF77 bi-folding doors allow for full clear openings and are market leading in terms of the heights and widths that can be achieved. We also offer commercial entrance doors and shop front options.
Here are a few of the benefits that investing in an aluminium product can provide.
Benefits of aluminium
1. Perfectly suited to the demands of high-end builds and commercial projects
Lightweight and attractive, but incredibly strong, aluminium is one of the most versatile types of material available when it comes to crafting products that will last a lifetime and perform well. This makes them exceptionally suited to the demands of most modern, high-end builds and commercial projects.
2. Incredibly durable
Despite being very lightweight, aluminium projects are nevertheless extremely durable, making them a great fit for use in high-traffic situations such as public sector and commercial projects. If you need a product that can withstand the possibility of long-term, extreme use, an aluminium product from Turkington is one of the best items you could invest in.
3. Excellent thermal and acoustic insulation properties
When intelligently designed, aluminium profile can be exceptionally thermally and acoustically efficient. Capable of transforming the warmth and energy efficiency of a building, aluminium products such as windows and curtain walling can help to significantly slow the escape of heat from a building, keeping it warmer for longer and by using less energy.
Here at Turkington we only use market leading aluminium profile so that the highest levels of thermal performance and energy efficiency can be guaranteed.
4. Superb weatherproofing properties
Naturally resistant to corrosion, aluminium is the perfect material to choose if you're looking to create a product that is fundamentally resistant to weathering and the effects of the elements.
All of our aluminium products are rigorously tested to BS EN standards for wind resistance, water tightness and air permeability to ensure that they offer the very best levels of weatherproofing and protection from the elements.
High end aluminium products for domestic and commercial projects
Find out more about Turkington's range of aluminium products for domestic and commercial projects by giving one of our team a quick call on 0800 028 1812 . Alternatively, you can send us a message via email.