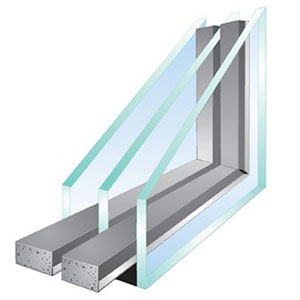 At Turkington we're currently offering an incredible offer that you're unlikely to find elsewhere. Throughout September and October, we're offering triple glazing for the price of double: a deal you'll be hard pressed to find another company offering!
Transform the warmth of your home with triple glazing
Triple glazing is one of the best products to invest in if you want to maximise the energy efficiency of your property and balance temperature more effectively throughout your household.
Warmer, stronger and more secure than conventional double glazing, triple glazing is currently taking the industry by storm. Recent advances in technology have meant that triple glazing now offers exceptional thermal retention properties at an affordable price.
Triple glazing is widely used across Scandinavian countries such as Norway, Sweden, Denmark and Finland, and is one of the best types of glazing available when it comes to improving the energy efficiency of a home.
Turkington are proud to be leading the way by offering triple glazing. We want more homeowners to take advantage of the exceptional energy efficiency benefits of this type of glazing, and that's why we're offering an incredible deal all through September and October: buy triple glazing for the same price as double glazing!
How triple glazing works
Triple glazing uses the same principles as double glazing in order to provide exceptional thermal and acoustic insulation. Whilst double glazing uses the insulating space between two panes of glazing to trap heat inside a building, triple glazing uses the space between three panes. These are separated by a central spacer bar and are often filled with an inert gas like Argon, to further slow the escape of heat from a building and trap warmth inside for longer.
By keeping heat in a home for longer, triple glazing reduces the need for you to use additional energy to keep warm, thus reducing your overall energy consumption. This in turn can have a knock on effect of reducing the cost of your energy bills, saving you massive amounts of money.
If you're looking to improve both the warmth and the finances of your household, investing in triple glazing is a very wise decision to make.
Revitalise your home with triple glazing today
Triple glazing has the potential to complete alter how you think about energy consumption and the power to free up your finances by making your home more energy efficient.
Find out more about our incredible triple glazing offer by calling us on 0800 028 1812 or by sending us an email. The offer lasts until 31st October so call now whilst stocks last!