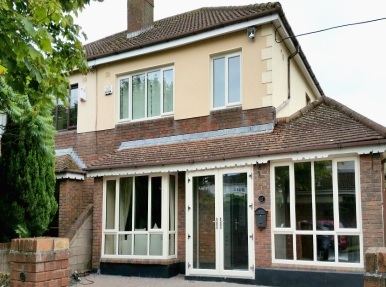 PVC windows have come on leaps and bounds in the last 3 decades. Those installed more than 10 years ago may not be the most cost-effective solution for your home – they could be letting out heat and failing to enhance your home's aesthetics.
It is such issues that Orla Gavan in Lucan, Dublin was faced with. Fortunately, Turkington were on hand to offer high quality replacement triple glazed PVC windows, a new composite door and updated porch enclosure.
What's the solution for dated windows?
Dated PVC windows were not built to last – many only had a guarantee of 10 years. Miss Gavan's existing rosewood windows were draughty and dark. The glazing, locks, hinges and frames were at the end of their useful life.
She wanted to enhance her home with energy efficiency, security and aesthetics. She was also keen to gain a fully-functional front porch and stylish entrance door. Knowing about Turkington's fantastic reputation across Dublin, Orla was more than pleased for our team of experts to install the new home improvements.
Stylish and functional triple glazing
To optimise the thermal and acoustic performance of Miss Gavan's Dublin home, our experts opted for high performance triple glazing. Sleek and modern cream woodgrain casement windows and a bespoke composite door were installed, in addition to a versatile new porch area.
The high quality materials of the frames, windows and hardware all served to significantly improve aesthetics, security and energy efficiency. Unlike dated PVC, these brand new home improvements will improve the Dublin property for decades to come.
Another customer happy with Turkington (and our lack of tea drinking!)
Miss Gavan was delighted with the installation, mentioning how "It was one of the best decisions we had made since purchasing our house, and our experience of them was wonderful".
She went on to describe her positive experience with our team members: "From the outset, Lynda was amazing to deal with. She was both personable and yet extremely knowledgeable about windows… Lynda truly went above and beyond for us".
Leading on from this, "In the morning of the windows delivery, the 2 men arrived both punctually and with an incredible work ethic. They worked endlessly throughout the day refusing any offers of tea and I was thrilled with the result. They worked tirelessly and after 14 hours of their hard work, the end result was beautiful! Lynda visited during the day to ensure we were happy with everything and little touches like this are invaluable to customers".
Why choose Turkington Windows to update your Dublin home?
We couldn't have received higher praise from Orla, who has ensured she will recommend our work to anyone looking for great quality home improvements! We are delighted to have completed such an excellent job for her.
If, like Miss Gavan, your home is in need or replacement windows and doors, and you want to enhance your property with style, security and thermal performance, explore our range of home improvements and enquire with us today.
We offer our reliable services across all of Northern Ireland, as well as the Greater Dublin area and Donegal, Monaghan, Cavan and Louth – with reviews like Orla's, it is no surprise that over 98% of customers would happily recommend us to their family and friends.