Traditional Victorian-style composite doors are ideal for older properties but also work by adding a classic twist to more contemporary homes. Composite doors are perfect for homeowners looking for a front door that offers modern innovation without compromising on their desired classic aesthetic.
Build your perfect Victorian-style front door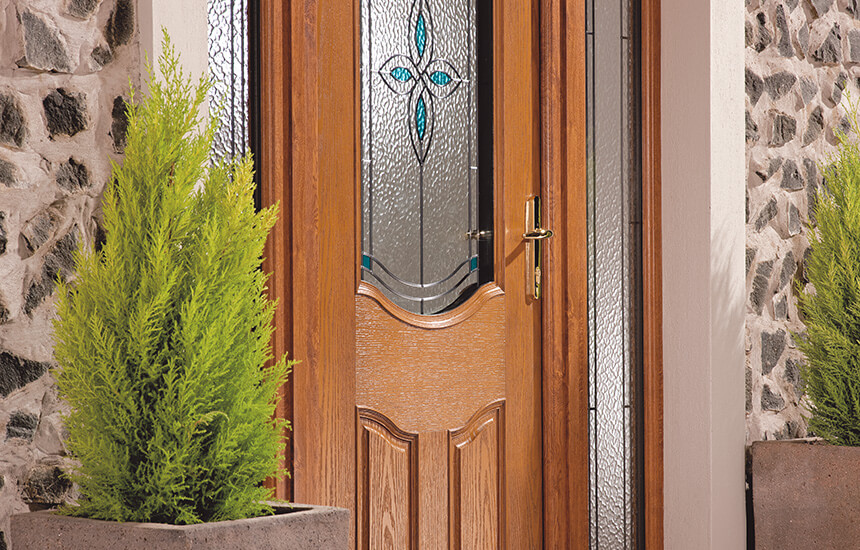 If you want a Victorian-style front door this can be easily achieved by combining traditionally inspired components. Why not have a go at using our door builder which features a multitude of traditional design pieces that you can configure to create your ideal Victorian-style inspired door. Our door builder exclusively features products and designs from Apeer Traditional collection.
We've put together 6 design features of traditional Victorian front doors to help you create the perfect entrance to your home.
New door material, yet traditional looks
Traditionally, Victorian front doors were made of timber. Despite its beautiful appearance, timbers natural composition can be prone to warping, distorting, and even rot if it is not properly cared for.
Apeer Composite Victorian-style front doors are a remarkable solution for your home. Our composite doors feature a remarkable insulating and secure foam core intelligently enclosed by a Glass Reinforced Plastic (GRP) skin. As a result, you can achieve the authentic look of a Victorian timber door, with guaranteed protection from modern solutions. Composite front doors provide a perfect blend of elegance, strength, and performance.
The blend of materials makes composite doors completely weatherproof, and you won't have to worry about repainting regularly to preserve the door. Composite doors are perfect for those households that have a busy schedule without much time to spare cleaning and maintaining their front door.
Victorian door colours
Victorian front door designs are usually well suited to more classic colours such as black and red. Brickwork from this period is typically red or yellow and rich in colour, so Victorian-style front doors often suit deeper colours that compliment the richness of the bricks. Consider colours such as Apeer Black, Dark Green or Burgundy. Even if your home isn't finished in Victorian brickwork, choosing a dark colour for your Victorian front door is a nice nod to its heritage.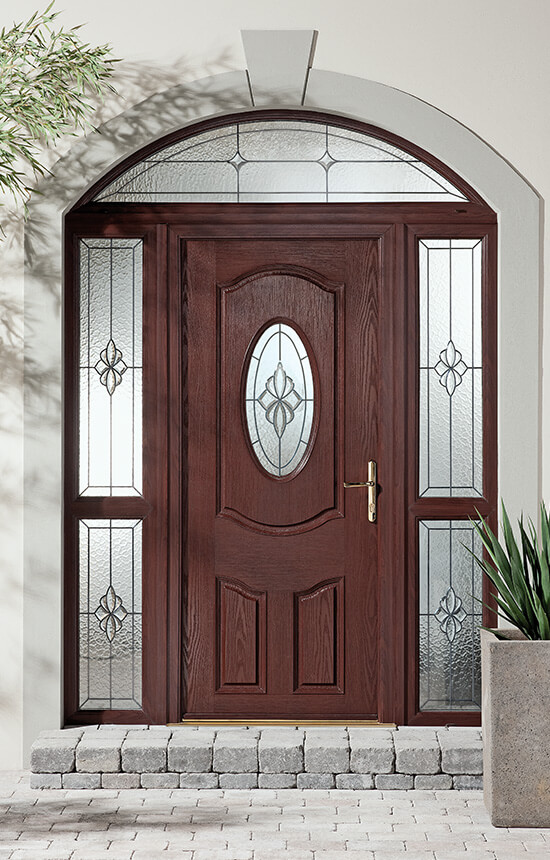 It's also worth noting that our composite doors come with the option of dual colour that you can choose when using the door builder. This means that the inside of the door can be a different colour to the exterior. This is extremely handy for homeowners who want their front door to stay in keeping with their interior style whilst also helping to create a different aesthetic on the exterior.
Original looking Victorian stained glass sections
Victorian front doors traditionally feature etched glass panels with stained glass sections. Stained glass offers privacy benefits while also bringing beautiful colours and period style to your home's entrance. You can view the large selection of glass options when you use our traditional door builder, or alternatively, take a look at the Apeer brochure.
48mm triple glazed units are standard in Apeer doors for improved thermal efficiency and there is always the option to custom create your own bespoke handcrafted glass design.
Sidelight & top light door glasswork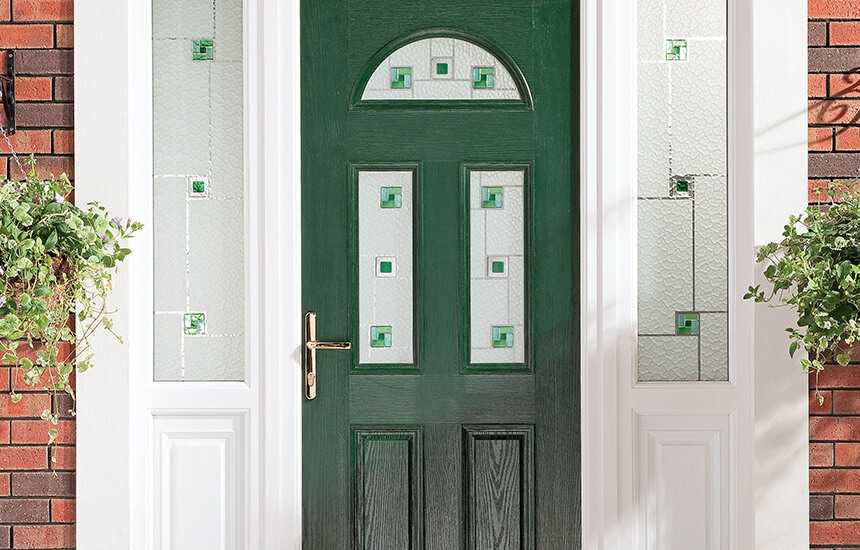 A Victorian homeowner would have been keen for their front door to make a grand impression. Toplights above the door and side-lights flanking either side were popular as they give scope for some beautiful and ornate glasswork. There are a huge number of possible configurations when it comes to adding extra glasswork around your front door creating a beautiful Victorian style frame. Take a look at the frame options using our door builder.
Handles, knockers and other finishing touches
Gleaming brass door furniture would often be used as the finishing touches on Victorian front doors. No matter the status or style of a house in this period, this hardware became an essential feature of most Victorian homes and is a theme that has stood the test of time.
Our handles come in a choice of finishes like bronze, antique, silver, gold and more. To keep in with the Victorian style antique or gold would work particularly well, however, if you want to add a pop of contemporary contest to your traditional door you could opt for something like black or white.
We offer knockers in traditional shapes and styles such as scroll, urn, slimline urn and lions head. These style knockers were prevalent on most doors from the Victorian era and look completely at home on traditional entrance doors.
You can play around with different hardware for your dream front door using the door builder here
Upgrade your whole home entry space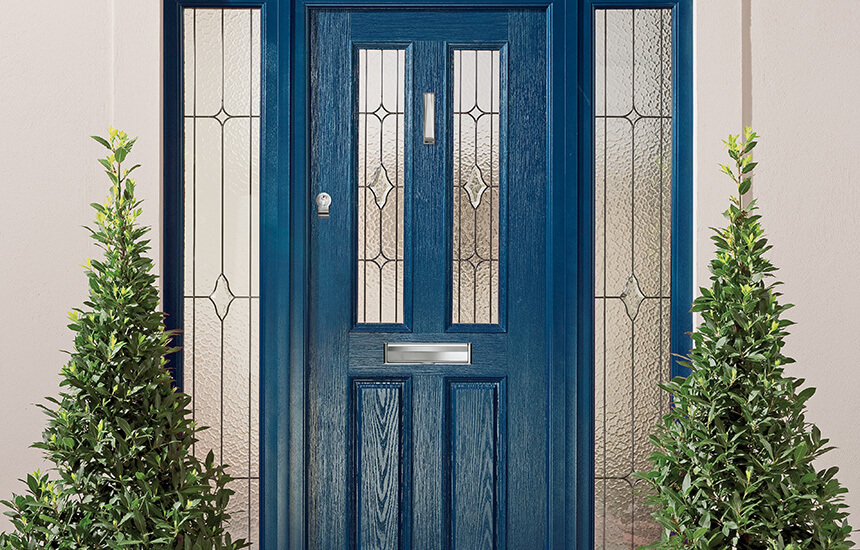 The area that surrounds your front door is also worth paying attention to in order to complete the Victoria styling. To further increase curb appeal, porches and doorsteps of the era had colourful, patterned tiling which was often reflected in the glasswork of the door. Using some plants to surround your door can help to further enhance the look. Victorian gardens were notoriously beautiful and well kept, so some purple wisteria or maybe roses around the front door would look right at home amongst your Victorian-style aesthetic.
Traditional composite front doors from Turkington
Resistant to warping, cracking, fading and peeling, our traditional composite doors will look their best for many enjoyable years to come. Security is maintained with a full security package, that proactively includes anti-drill, anti-pick and anti-snap cylinder lock barrels as standard.
Why not use our door builder to configure your dream Victorian style door and send it over to us for a free no-obligation quote? Alternatively, call us on 02838 393 030 or visit your nearest showroom.