Aluminium is the material of the future- from it's attractive modern look to its range of energy efficiency properties. It's the perfect choice for a door in your home. Let's take a look at the range of aluminium doors Turkington Windows & Conservatories offer so you can choose the right one for your home.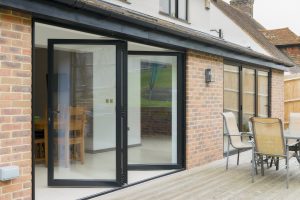 What are the benefits of aluminium?
If you like the modern look, aluminium is the best choice. With slim frames, it ensures your home looks stylish. Less door and more natural light
Aluminium is naturally strong which means slimmer frames so you can enjoy wider unobstructed views
Inherently insulating, it will keep your warmth inside which means lower heating bills and a comfortable home all year round
Aluminium is 100% recyclable so your home can be more eco-friendly
Aluminium requires very little maintenance to keep it looking good and won't rust or corrode. It's a long-lasting investment for your home
Stylish sliding patio doors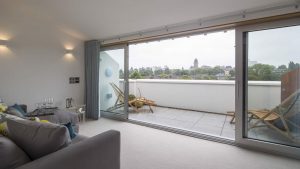 Sliding patio doors are the traditional choice for doors leading to your garden. Our range of KAT aluminium sliding doors let in an abundance of light and allow you to easily move between your living spaces. With up to six panels and a maximum width of 6m, you could have the whole length of your home fully glazed. With PAS24 accreditation and a thermally broken profile, they will keep your home protected against the elements and intrusion.
Simple and easy to use
If you want a sliding door with a difference, how about a lift & slide door? Simply turn the handle to raise the door panel and the door will rise on its tracks and slide until it's where you want it. This makes them ideal if you have young children around as they won't be able to easily move them and get fingers caught. With wide glass panes, you can enjoy beautiful views across your garden and surrounding countryside. Our lift & slide doors are available in a range of RAL colours so you can choose one that is personal to your home.
Unfold the potential in your home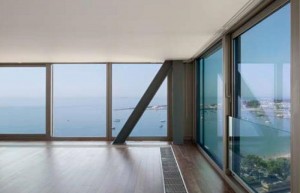 Bi-fold doors are the ultimate choice for opening up your home. The door panels fold and stack to one side ensuring that none of your space is taken up. When fully open, you can create an open-plan feel between your home and garden. This makes your space feel larger and is perfect when entertaining as guests can easily move around. Our aluminium bi-folds are available in wood effect finishes as well as a range of RAL colours.
Northern Ireland and Greater Dublin's high quality choice for home improvements
If you'd like an aluminium door to transform your home or any other home improvements from double or triple glazing to conservatories, we can help. With our dedicated emphasis on customer satisfaction, our team will work with you to make your home the best it can be. Get in touch with us today.