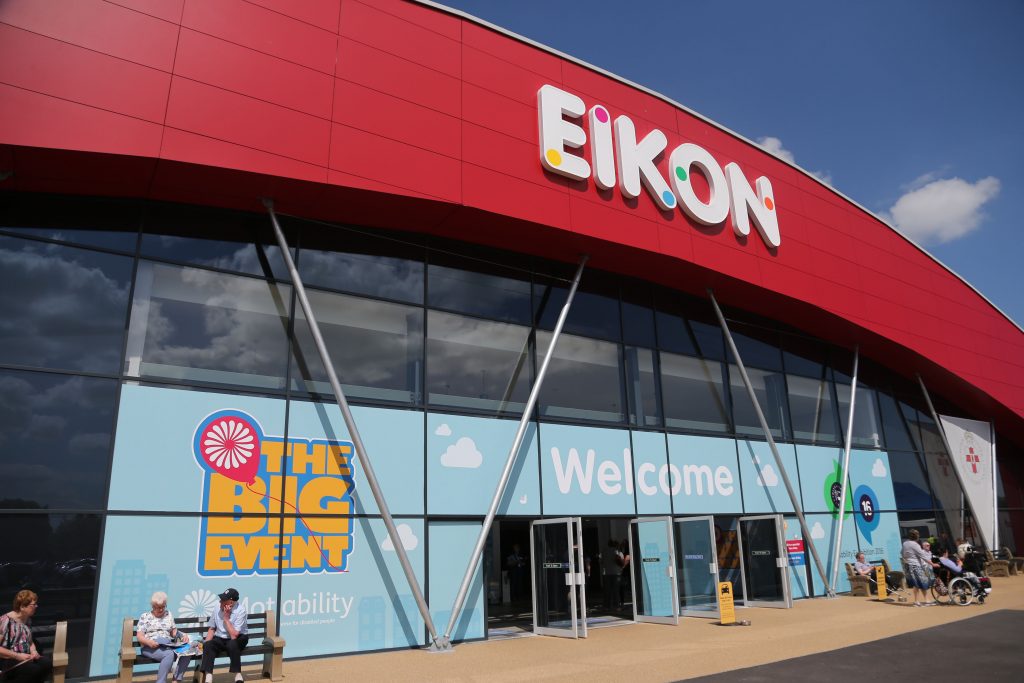 Very recently Turkington Aluminium & PVC were contracted by OCP Belfast to supply & install an aluminium glazing system to a large scale commercial project in the form of the new Eikon Exhibition Centre at Balmoral Park in Sprucefield.
An ambitious glazing project, we completed on time and budget
Committed to getting the work right first time, every time, Turkington Aluminium & PVC regularly work closely with contractors, architects and specifiers on a plethora of commercial glazing contracts, the Eikon Exhibition Centre's new front elevation was no different.
Working in partnership with Sutherland Architects, the project was to install c. 500m2 of aluminium glazing to the front elevation of the building's new extension. This would help maintain its modern aesthetic style whilst allowing for ease of access. The thermally broken curtain walling system and non-thermal doors were the perfect solution for the job, and we knew the work had to be completed within a tight 10 week timeframe.
The Eikon Exhibition Centre was no stranger to evolution and change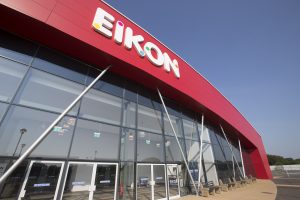 The building was originally located at the Kings Hall in Balmoral, Belfast where it previously played host to various events, exhibitions and expos. Recently however it was relocated to Balmoral Park, Lisburn for use as the new home of the annual Balmoral Show and many other events. This was made possible due to its basic design as essentially a giant aluminium frame overlaid with a PVC roof and cladded sides.
This new location was where Turkington Aluminium & PVC were required to supply, install and manage the project, introducing c. 500 m2 of curtain walling to the front of the reassembled and extended exhibition centre for the purposes of easing entry access.
Overcoming various challenges like all contracted companies should
During the curtain wall installation our team took extra care and attention when needing to overcome certain challenges. To give the illusion of a complete radius for example, each length of curtain wall (between 6-7m) was cut on site to better achieve the precise angle required, also removing any room for potential error.
In terms of the actual installation, some of the panes were required to be positioned from the top of the building. To overcome this obstacle, we made use of a winch and scissor lift system to help us properly fit the panes with the same degree of accuracy as if it was being installed at ground level. The work was completed swiftly and safely, taking extra care to not endanger ourselves or any other work occurring around us.
Lastly, in order to sufficiently avoid bowing over the newly installed non-thermal access doors, we installed mullions to the centre of the elevation which split the span whilst still keeping the end result aesthetically pleasing and stunning to look at. The finished project was one both our team and the clients were more than happy with.
A finished result that made for another successful commercial contract for Turkington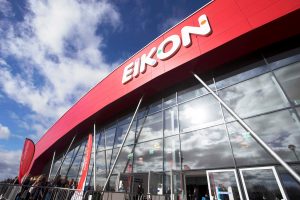 Following 10 weeks of high quality work from the in-house team at Turkington Aluminium & PVC, the Eikon Exhibition Centre's newly glazed front elevation and entrance successfully added to the structure's sense of space and overall modern appearance. Like with all commercial projects we work on, our experienced team of estimators, designers and installers ensured the successful completion of this prestigious project, being on time and on budget as expected.
If you're a contractor, specifier or architect interested in speaking with our Commercial Aluminium & PVC team, call us on 028 3833 2807 or send us an online message.