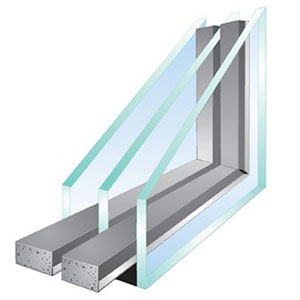 Improving your home's energy efficiency is beneficial for your home, your wallet and the environment. By choosing windows and doors that retain heat better, your home will feel more comfortable and you'll save money on your heating costs.
How can your windows boost your home's efficiency?
If you're noticing draughts rattling through your home and cold spots, your old and worn windows could be the cause. If you're still suffering with ineffective single glazing, you need to discover the difference double glazing can make. Obviously the second glass pane is an effective barrier against the cold and the elements but it's the air space in between that traps the cold as well as unwanted noise. A rated double glazing can save you up to a third on your energy bills. All A rated double glazed windows normally have a u value of 1.3-1.4 whereas triple glazed can be as low as 0.8. All of our windows at Turkington Windows & Conservatories can reach an A energy rating.
Front doors that protect you from the cold and intruders
The doors to your home are also vital when it comes to energy efficiency. Composite doors are your best option when it comes to thermal retention. With a highly insulating foam core and a multi-layered composition, they provide exceptional protection against draughts. We offer A rated composite doors that will keep your heat in all year round.
How can you find out how efficient your windows and doors are?
Firstly, ensure that the windows you're looking at are certified by the BFRC (British Fenestration Rating Council) who introduced the Window Energy Rating system. Windows are rated from E to A++ with A++ being the most efficient. All new windows must achieve at least a C rating. Windows are tested for performance in three areas:
Solar gain: how much heat from the sun is absorbed into your home
Air leakage: how tight the seals are to prevent heat escaping and the cold entering
The U Value: the measurement of heat retention. A higher number means increased heat loss
Doing our bit for the environment
By having energy efficient windows and doors, your home's carbon footprint and CO2 output will be reduced. This is because you shouldn't need to use your heating as much or on as high a temperature. We care about our impact on the environment and take sustainability seriously. We recycle as much of our waste as possible and partner with suppliers who share our values. Eurocell, who supply our PVC windows, are committed to recycling 100% of the waste from their manufacturing process as well as buying waste from other companies.
Watch our video below for a few more tips about improving your home's energy efficiency and get in touch for any more information.