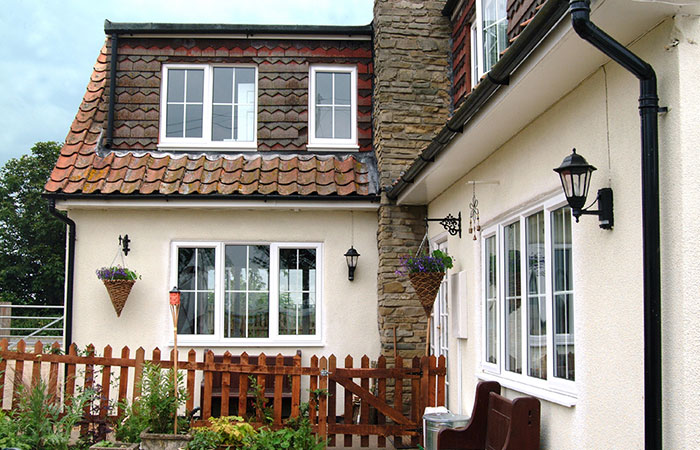 A casement window is the staple of the glazing world and is probably the most common window you see around your neighbourhood. Normally hinged on the side, they can open outwards to the left or right. You can also have top or bottom hung panels so can choose whichever option suits your home. By adding Georgian bars or even leaded glass, casement windows can easily suit traditional homes as well as modern ones.
The history of the most popular window style
Before glazed windows became commonplace, in the early medieval period, windows were simply openings in the structure of buildings with timber shutters. Glass was expensive and imported from Europe so not widely used in homes until the 17th century. Side-hung hinged casement windows began being used but by the end of the 17th century sliding sash windows became fashionable.
After the First World War, metal casements were the new revolutionary windows and were seen in many homes during the 1920s and 1930s. As these could open wider than sash windows they were chosen as could fill homes with fresh air and light. During the 1970s and 1980s PVC became the window material of choice and now the majority of homes have casement windows due to their versatility. They can be side, top or bottom hung and you can even incorporate decorative panels alongside them.
Our high-quality range of casement windows
Turkington Windows' range of double glazed PVC casement windows are the perfect choice for your home as they incorporate these beneficial features:
A rated as standard, they will keep your warmth in all year and contribute to lower energy bills. With a multi-chambered profile and energy efficient glass, your home will no longer suffer from draughts and cold spots
For superior thermal and sound insulation, your new casement windows can be fitted with triple glazing
Turkington Windows' durable PVC is practically maintenance free, so very little effort is needed to keep them looking good for years to come
With the latest multi-point locks and glass units fitted to the frame from the inside, our casement windows will help to prevent intrusion and keep your home protected
Choose from 11 beautiful stock colours including wood grain foils for the look of timber. Plus, a range of 'special' colours for that bespoke look. Our windows can be coloured differently on either side too so can match with your interior décor. This makes them perfectly suited to any style of home
Like all Turkington Windows & Conservatories home improvement products, you'll receive a 10 year guarantee as well as post-installation support
To find out what double glazed casement windows can do to your Northern Ireland or Dublin home, contact us today. Turkington Windows & Conservatories has all the expertise you need to transform your home.