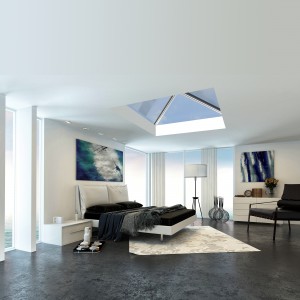 Designed specifically to increase the natural light capable of entering a room and help give a heightened sense of space, UltraSky is a glass lantern roof system perfectly suited to be installed within a new build extension, orangery or existing flat roof.
Whether you want to brighten up a living room, kitchen or even a bedroom, introducing an UltraSky roof lantern in your home is the perfect style solution to successfully spoil the space with natural light.
A wealth of features designed to enhance natural light entry
If your home has a room that could benefit from a more effective way of allowing light to enter, one of the best ways to introduce more ambient light to the space is by installing a roof light. Why not take this idea one step further, and opt for the market's leading roof light product with the UltraSky roof lantern? It's slim line frame, high quality glazing and large glass surface area makes it perfect for any style of home that needs brightening up!
Reducing the need for unsightly, thick roof ridges, UltraSky roof lanterns successfully maximise the amount of light capable of entering the desired space by making use of the largest glass surface area possible. These uninterrupted sightlines spoil your home with the natural brightness of the outside without the need to surround your room with unnecessary amount of glazing. Because the roof lantern allows light to enter from above, homeowners never need to sacrifice privacy for natural light.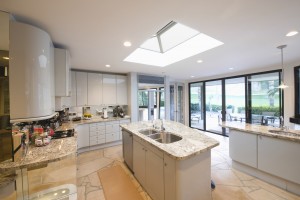 How UltraSky makes the best use of natural light
Ceiling installation for heightened sense of space and light
Clear and sleek sightlines for large light entry
No chunky roof ridges for maximum glass surface area
High quality glazing that retains heat and reduces noise pollution whilst still allowing light to pass through
A stylish addition that breathes new life into your extension
Suitable for both traditional and contemporary style properties, the UltraSky roof lantern acts as an alluring style choice that also provides homeowners with many practical benefits, so much so that most agree – UltraSky is a bright idea! Available in a number of bespoke rectangular sizes ranging from 1m x 1.5m to 2m x 4m, there really is no excuse to miss out.
The product itself makes efficient use of highly thermal efficient glass that only serves to help minimise heat loss and noise pollution while still allowing for plenty of natural light to enter. This alleviates the expected problems that can sometimes plague traditional polycarbonate roofs such as heat loss, draughts and high levels of noise from traffic or rainfall. You'll be able to peacefully relax, even if situated in busy urban areas.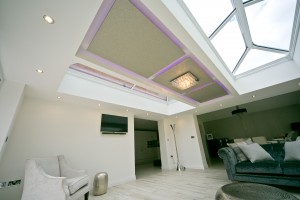 The best way to brighten your home with UltraSky from Turkington
An UltraSky roof lantern has the potential to completely change the way you utilise an unloved space or sheltered room, instantly improving both the mood and amount of light able to enter the space. Engineered using high performance aluminium or PVC for maximum strength and durability, you'll be amazed at how much bigger your home will feel and the brighter atmosphere created.
Find out more about how an UltraSky roof lantern can help better let the outside into your home by calling us on 0800 028 1812 or getting in touch online today for a free quote!