If you have a conservatory, or you're thinking of adding one to your home, here are our top 5 tips on how to decorate your conservatory and make the most of the space.
Bring the outside into your conservatory
Create a tranquil and fresh feel in your conservatory with leafy green house plants and fabulous flowers. You don't need any excuse to buy fresh flowers other than that they instantly brighten up your conservatory and look right at home against the backdrop of your garden. Don't worry if you're not particularly green fingered, there are hundreds of easy to care for house plants to choose from such as a Peace Lily, Spider Plants, or Fern.
Control the lighting in your conservatory
Despite conservatives being made up of mostly glass, there a ways that you can control the amount of light entering the room. Lighting has an effect on both the ambiance and the temperature of your conservatory, so having the ability to customise the light in your conservatory is hugely desirable.
Window shutters
Shutters give you the perfect balance of practicality and style. Providing light, privacy, and reduced noise, shutters are a low-maintenance addition to any window, requiring nothing more than a quick wipe-down to keep them looking their best. Unlike blinds or curtains, shutters are the only solution that can offer you different degrees of privacy and light control, whilst promising to last for years and years.
Roof lantern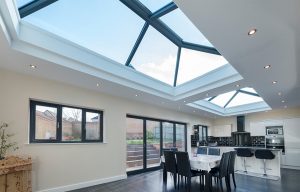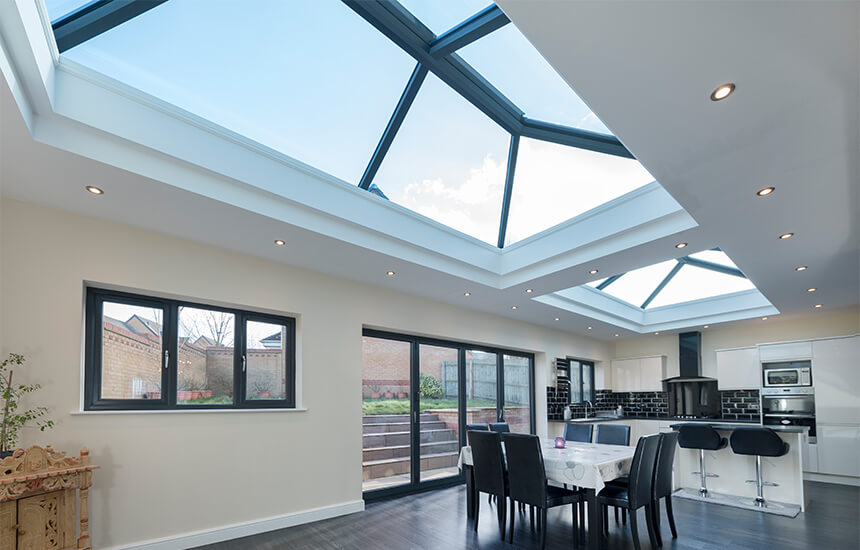 With elevated panels, a roof lantern acts as both a glazed roof as well as the focal point of a room and makes a great alternative to a fully glazed roof. This helps maintain your privacy as well as having a vaulted ceiling that can allow your extension to flow with the rest of your home's décor. We only ever use high quality glazing as standard so you can rest assured these roof systems will keep your home at the perfect temperature all year round. The thermal performance of our Ultrasky roof lanterns has been optimised to make them suitable for extensions in domestic properties, achieving U-values as low as just 1.4 W/m2K.
Introduce homely furniture to your conservatory
Make your conservatory somewhere you want to spend time by adding cosy furniture. Everyone's personal taste is different, but there are few types of furniture that work particularly well in most conservatories. Rattan pieces are beautifully neutral and have a country cottage charm that suits almost any conservatory extension. Simple light fittings and light and airy accessories will complement your rattan styling perfectly.
Create a sense of open plan living in your conservatory
Aluminium bi-folding doors seamlessly blend your interior and exterior living space. They create a wider, more open living space and flood your home with natural light. The aesthetic benefits of these bifold patio doors have made them a must-have addition for many homeowners, especially if they have a conservatory. Our range of high-performance bi-folding doors offer a range of benefits you can enjoy all year round. In the summer, push the panels back to let natural light and airflow into your conservatory. In winter, sit back and enjoy the spectacular exterior views from the warmth and comfort of your home.
Keep décor light and neutral to enhance your conservatory

To enhance the bright and airy feel in your conservatory, we suggest keeping your décor and colour scheme neutral and light. Make the most of whites, browns, creams, and pastel shades to really enhance the spaciousness of your conservatory. Dark colours and busy patterns can sometimes make a room feel smaller, so if you do want to incorporate a bright and bold patterned statement, be sure to surround it with contrasting neutral and simple tones.
Conservatories from Turkington
We have a broad range of both modern and traditional designs to make your conservatory your own and we can install a wide range of styles in all shapes and sizes to complement any style or size of home.
If you would like to talk to us about a new conservatory, you can get in touch here or get your free, no-obligation quote. Alternatively, you can visit us at your nearest Turkington showroom.
Related posts:
10 benefits of buying a conservatory
Which is best? A conservatory, sunroom, or Garden Room?